Wine Barrel Carvings Offer Unique Accessory Option for Wine Cellars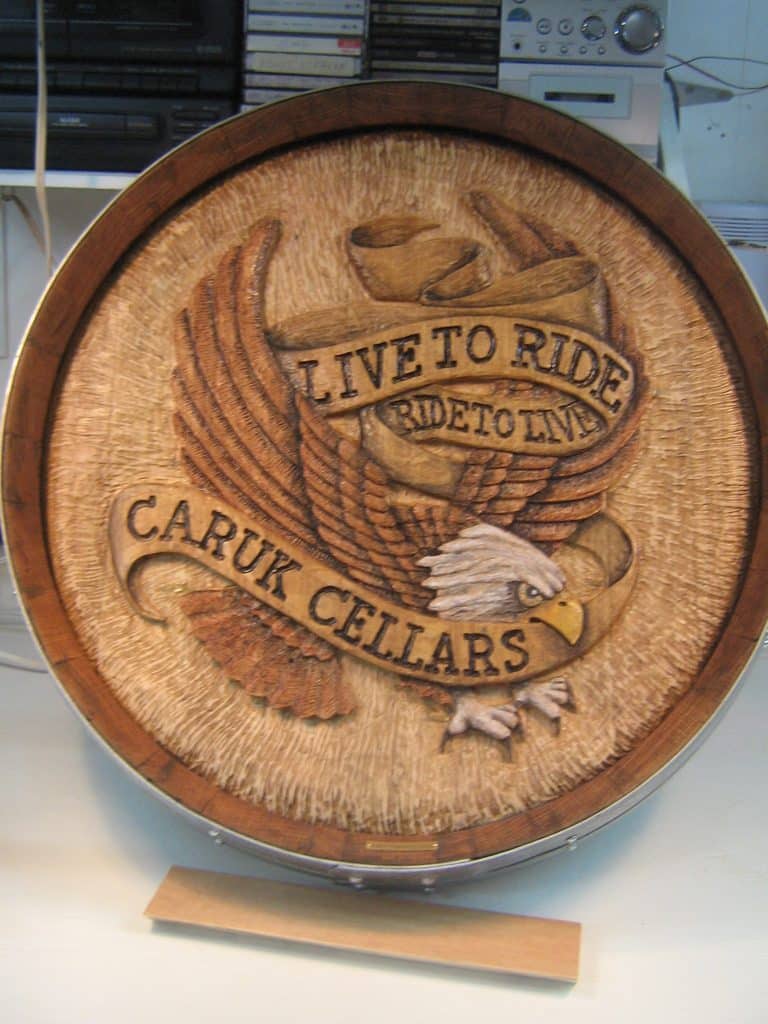 When your looking to make your wine room really special, finding that special customized accessory can be really important. One of the ways that we often recommend to clients is through customized wine barrel carving. This can add a personalized touch, with an old world sense of style to your wine cellar.

A One of Kind Decorative Element!
Custom wine barrel carvings are a unique and creative way to accessorize a residential or commercial wine cellar space, while promoting environmental sustainability at the same time.  This one of a kind decorative element can be personalized to any desired design, such as a family crest, company logo, or coat of arms.  The carvings can also depict numerous wine inspired themes and scenic views.
A Sustainable Option for Wine Cellar Art
These beautifully handcrafted art carvings come from wine barrels that have used up their shelf life.  Rather than dumping these old wine vessels in landfills, selling them as firewood, or using them as planters, they are given a new lease on life by turning them into pieces of wine cellar décor that can be a great addition to any wine storage room, winery, tasting room, or restaurant.
A Wine Cellar Tradition Renewed
The art of wine barrel carving originated as a in German carving tradition that would have faded with time, but was ultimately saved from permanent obscurity by a band of modern artisans.  The need for innovative and eco-friendly wine cellar design ideas has also sparked renewed interest in this fading art form.  Traditional hand carvings of old wine barrels evoke a sense of history and tradition that can enhance aesthetic appeal of a wine cellar space.
How Wine Barrel Carvings are Designed
Although the entirety of wine barrels can be utilized as wine cellar accessories, the tenth barrel head is the most commonly used configuration in wood carving designs.  It comes from quarter sawn oak with a thickness of more than 1 inch.  Barrel head carvings are approximately 24 inches in diameter, and include a 4-inch depth of surrounding hoops and side staves.
The barrel heads are dismantled, reconditioned, and reassembled by applying polyurethane glue to secure the material against cracking, as well as provide added durability.  Plywood backing is also glued into a milled recess located around the inside perimeter of the head to strengthen and improve its structural integrity.
Many Options for Wine Art Color and Finish
A variety of stain and finish options can be applied to the completed carving design, but most wine barrel carvers recommend minimal use of these applications in order to allow the natural beauty of reclaimed oak barrels to shine through.  Wine barrel carvings can be mounted on the wall, hung above a fire place, or simply placed atop counters or tabletops.
Peter Forbes – Our Recommended Wine Barrel Carving Artisan
As previously mentioned, there are a group of skilled artisans who are committed to preserving the wonderful art of reclaimed wine barrel carving.   Peter Forbes is one of those individuals dedicated to continuing on the ancient tradition of hand wood carving.  He is a renowned wine barrel carver whose detailed craftsmanship and heirloom quality carvings are well-received in the industry.
Peter Forbes has been creating custom hand carvings on recycled wine barrels for about fifteen years now.  He makes it a point to involve the client during the conceptualization stage of the project, to ensure that the art work captures their individual characteristics and creativity.
Add a Wine Barrel Carving to Your Project!