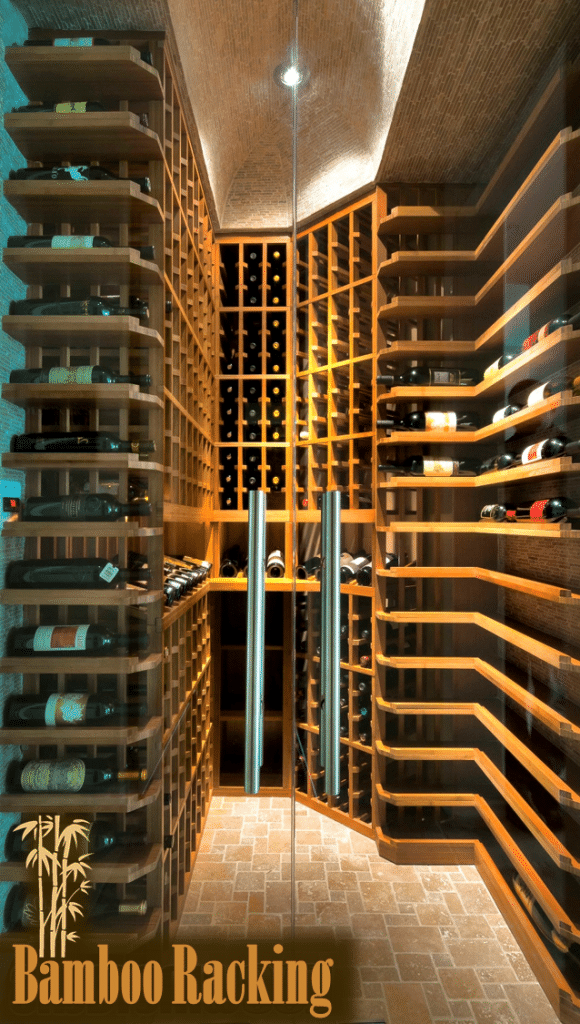 Your choice of materials for your wine cellar design have never been so rich. There are standard wood based choices, such as redwood, mahogany or pine along with various forms of metal which can create very contemporary looks. There are also more exotic choices such recycled wine barrels and one of our newest additions Bamboo!
Custom wine cellars constructed with Bamboo racking create a rich and durable product. One that will last for many years without maintenance and is completely sustainable in this age of diminishing resources.
Check out some of our example designs below and consider using Bamboo for your wine cellar project.
Key features of the Bamboo used for our wine cellar designs
Bamboo is amazing, it is one of the fastest growing plants on the planet
It is a highly renewable resource
Farmed just like a crop and replenished with virtually no impact on the environment
Bamboo can be selectively harvested annually and is capable of complete regeneration without the use of fertilizers or pesticides
Bamboo is strong and durable it has a tensile strength greater than steel and a weight-to-strength ratio surpassing graphite
During processing, the sugars present in the bamboo fibers produce a rich, warm caramel color, free of stains, colorants or chemicals
It is an ideal material to safely store the finest collections of wine

Nature itself has conditioned bamboo to exist in the humid environment of a wine cellar.
Bamboo Racking
Produced from FSC (Forest Stewardship Council) certified bamboo
Low VOC water based stains and acrylic finish
Easy Edge ladder rails
Engineered with 3 ¾" niche sizes for 750 bottles
Nylon connectors are used to create interlocking frames

This means fast assembly of solid racks free of unsightly screws or nails.

Includes metal wall mounting brackets.
SEE this great wine room with wood racks in Preston Hollow, Dallas, TX project.
You will notice from the designs that pretty much anything can be created using Bamboo. From the standard caramel to mahogany coloring, shelving and solid diamond bin construction, display arches and angled display rows for your vintage wine collection.
Bamboo Wine Cellar Showcase Gallery