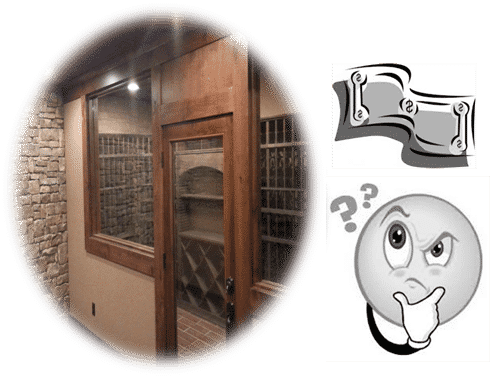 It is not impossible to have your own unique custom wine cellar on a limited budget. Find out how we converted a room in San Antonio into a functional wine storage space without going beyond the client's budget. 
Tight Budget Should Not Stop You from Building Your Wine Cellar
If you have a wine collection and a limited budget, you only have a few options to care for your wine properly. You can invest in a wine refrigerator or wine cooler. But they cannot provide wine the optimum conditions that it needs for proper maturation. They don't have the capability to control humidity levels in a refrigerated wine cellar, causing wine degradation. This can result in waste of time and money.
You can purchase a pre-manufactured wine cabinet like Le Cache, Vinoteque, or Climadiff. These are great options, especially for those living in an apartment or rental property where you can't build or add onto the home; these wine cabinets will preserve your wine correctly. But they are a fairly large investment for their part, so if you're long term dream and plan is to have a custom built wine cellar, the ideal placement for long term wine storage, you may find that it's not as far out of reach as you think. The trick is to work with a builder here in San Antonio that can help you find some creative solutions.
Wine Cellar Specialists may be able to provide an efficient storage solution that fits your budget. Our professional team of designers and installers have built many residential wine rooms according to our clients' financial requirements.
In San Antonio, Texas, the Philips family sought our help in designing and installing their residential wine cellar without going beyond the cost allocated for the project. We completed this wine room considering our clients' goals carefully.
Insulating the Room
One area that wise wine cellar builders know not to cut costs on is insulation. The insulation process provides a seal, preventing harmful factors such as heat and moisture, from ruining your wine. Problems such as unpleasant taste in wine, higher energy bills, and mold growth will arise if there is no correct insulation.
After framing the room, we used closed cell foams to prevent warm air from getting into the wine cellar. The ceiling has about 5 inches of foam, and the side walls have 3.5 inches. For better insulation, we filled the cavities of the walls with more foam. Failure to properly insulate your San Antonio custom wine cellar will cost you more in lost and ruined wine, as well as repairs, which is why we recommended this process for the Philips family and made it a priority in the budget.
Wine Rack Design and Installation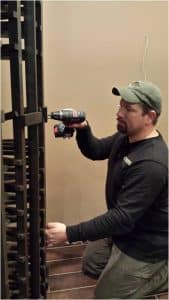 Since cost was a major consideration on this project, we created a hybrid wine rack design to make our client happy. If you opt for a fully-customized wine cellar the costs can escalate.
The client wanted to have some custom components in her wine storage space. To balance the demands of budget and the desires of functionality we used both kit and custom wine racks.
Ready-Made Wine Racks
Using kit or ready-built wine racks is a great way to stay under budget. The low price of kit wine racks make them a favorite pick of wine collectors who don't have a large budget for their project.
The back wall and curved corners of the Philips residential wine room were installed with kit wine racks. On the back wall, the bottles are stored in individual wine racks with a display row. The display row allows the client to highlight her favorite vintages.
The center of the back wall consists of diamond bins with an arch on top. Diamond bin storage is intended for wines in bulk, and bottles of different sizes. A 2-column bin extender was added to the kit racking, extending the total rack height up to 85 inches.
Customized Wine Racks
The custom racking on the left wall added an eye-catching appeal to the Philips wine cellar. It was designed with waterfall display with solid diamond bins at the bottom. In addition to being appealing, this style of wine rack also allows full view of the wine labels.
Wine racks with individual slots were installed on the right wall. To create balance with the left wall, solid diamond bins were also incorporated below the individual racks.
Custom Wine Cellars San Antonio Phillips Project
.
Rustic Appeal with Knotty Alder
The wrong type of wine rack material will ruin the overall look of your wine cellar. This is why it should be discussed carefully in the planning stage of the project. The Philips wanted their wine room to be "rustic" so we opted for knotty alder wood.
To enhance its deep red color, we applied rustic stain. Not lacquering it also helped achieve the rustic appeal. Knotty alder is a widely-used material for wine cellar construction because of its durability, versatility and resistance to rot. It also exhibits unique and attractive knots and clusters, which other types of wood don't have.
The Entryway
Not getting your wine cellar door right will result in wine storage and cooling system problems. This will result in mold growth that can have negative effect on wine's quality.
A poorly constructed door will allow cool air to escape from the cellar, causing your refrigeration system to work harder than it's designed to. This can cause breakdown of the system and higher energy bills.
To ensure that these problems are avoided, your door must be manufactured by a professional. At Wine Cellar Specialists, our doors are built to create a complete seal. They are also resistant to warping and tearing.
For the Philips wine room, we installed the Barolo-style door with an automatic door bottom, Q-lon weather stripping, and commercial grade ball bearing hinges. To blend well with the wine racks, it was also constructed from knotty alder and applied with rustic stain.
A large glass window was added on each side of the entryway. This allows the owner and her guests to view the wine display without entering the room.
The Lighting System
The client opted for LED recessed lighting system. LED lights are a bit more expensive than regular bulbs, but Wine Cellar Specialists recommend it to their clients because of they last longer. The longer lifespan of this lighting system will eliminate the need to replace it regularly, saving you money in the long run.
The LED ribbon lighting was inserted on the light valance installed above the display rows. This is a great way to highlight a collector's favorite vintages. LED puck lights, placed over the arch, illuminate the tabletop area. If you have specific bottles on your wine rack that you want to spotlight, using puck lighting is a good idea.
The Climate-Controlled System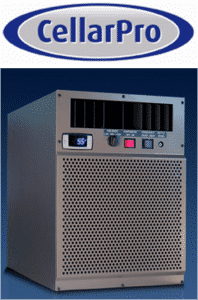 Prevent wine spoilage by getting a wine cooling unit that best fits your needs. Make sure that it is capable of maintaining the ideal storage conditions in your wine cellar to avoid regrets in the future.
We chose the CellarPro 4200VSi wine cooling unit to cool the Philips wine cellar. CellarPro is known for providing the most effective cooling solution for climate-controlled wine cellars. Their products provide quiet operation, high performance and advanced features.
Want to Start Your Wine Cellar Project Today?
Considering building your own custom wine cellar but not sure if your budget is enough? Like these homeowners in San Antonio, you never know if your dream is a reality until you speak with a specialist.
Call Wine Cellar Specialists today at +1 (866) 646-7089 to find out which option best fits your needs! Let us know all your requirements, and we will create a unique design that will suit your budget. It never hurts to talk to an expert.