Will It Work For You?
A new product has just been released and it is causing quite a stir.  This is a truly great fully ducted wine cellar cooling system by CellarPro, it is extremely versatile and can be configured to be used in many different ways.  For example, the cooling units can be stacked vertically when floor space is limited; or they can be stacked horizontally when ceiling height is limited; or the evaporator and the condensing unit can be split apart, and the condensing unit even can be placed outdoors, when space or access are limited
This new Wine Cellar Air Handler comes in both the 6500 and the 8500 sizes.  Therefore, these units are meant for larger cellars, up to 1750 cubic feet and up to 2500 cubic feet, respectively, with proper insulation and vapor barrier installed in the wine cellar.  The self-contained (ie Horizontal and Vertical) units are pre-charged and factory set so that they do NOT have to be installed by an HVAC contractor.
There are several different ways these wine cooling systems can be installed: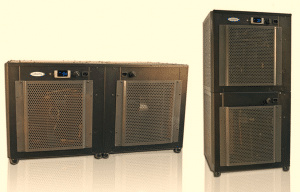 These wine cellar cooling units can be placed horizontally or vertically.
They can be used as one unit or separated as a split system.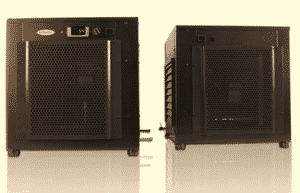 An optional remote digital display is available for use inside or outside the cellar when the units are ducted to and from the cellar.
The evaporator can be ducted into and from the cellar with the condenser attached.
The evaporator can be split and connected to the evaporator via 2 copper lines.
The evaporator could be placed inside the room and connected through the wall to the condenser via 2 copper lines.
Each unit is 18.6w x 18.6 d x 19.3 h… so each section is quite large.
The condenser can be connected to the evaporator directly.
The condenser can be "split" and connected to it via 2 copper lines and be separated up to 100 line ft. away.
The units can be ducted to the wine cellar from the evaporator and to the outdoors or another large space from the condenser up to 100 equivalent ft. (50 ft. per duct).
The units are also available so that the condenser can be placed indoors or outdoors to temperatures from -20 degrees to 110 degrees when used with the optional low ambient kit.
The way you will install your unit must be determined before ordering to receive the correct unit configuration.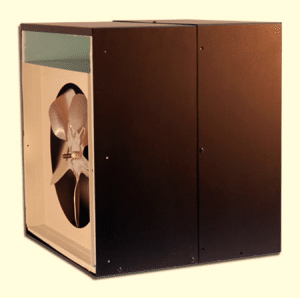 Optional Humidifiers and Heaters are available that can be installed at the factory upon placing your order.  These must be factory installed and cannot be added later.
The integrated Humidifier is perfect for increasing the humidity level in commercial or residential wine cellars. They are controlled by digital controllers that are mounted inside the wine room and are wired to the humidifier that is mounted to the rear of the Air Handler.  Humidity levels can be set from 5% to 70% in 5% increments.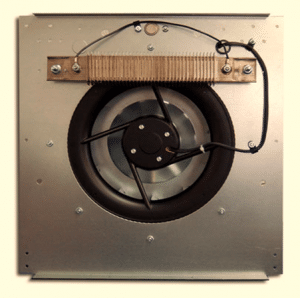 The 900W integrated Heater is for cellars that are unheated and exposed to conditions below 55 degrees.  When the heater system is added, it is integrated with and controlled by the digital control panel and automatically adds heat or refrigeration based on the temperature inside the cellar.  A safety thermostat provides protection from overheating.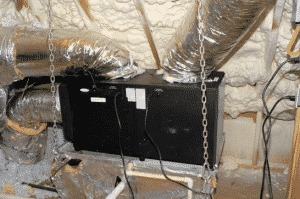 Here is a photo of recent install of an AH6500Sch CellarPro system installed by one of our partner contractors in Memphis, TN.  Located in the attic above the wine cellar the air was ducted to and from the wine cellar.   The hot air was ducted outdoors and the fresh air was received from the fully insulated attic.   The contractor who installed this unit purchased an extra duct collar for the unit. He is currently getting his supply air from the attic. If he finds that the attic gets too hot over the summer, he will change out the grill to the duct collar, adding a duct to the outside for the supply air.
Go here Custom Wine Cellars Memphis to see an example of a CellarPro Wine Cellar Cooling Unit installed is a recent residential wine cellar project.
To find out if this type of system is right for your wine cellar …. Or to see what cooling system is the best type and size for your wine cellar, call Wine Cellar Specialists to have a heat load calculation performed and get a unit recommendation.
Texas: 972-454-0480  Illinois: 773-234-0112 or Toll Free: 866-646-7089
After deciding to build a wine cellar in your home (or have one built), you should look at the cellar's overall efficiency first. How the wine cellar will look, and whether or not it will match how the rest of your house looks, should be a secondary concern.
Of course, design isn't an afterthought, but at the end of the day, the colors you use in your wine cellar, if you use colors, will not help you protect and store your wine collection.
Making sure your cellar is efficient means that your wine cooling unit must be the proper size for the room and emit the proper BTU's to efficiently cool the room according to your specific conditions. (see other blog posts for information on cooling unit options) Your cooling unit, more than likely, is going to look and sound very different than what you might be thinking. Depending upon which type of unit you can use in your situation, the look of your cooling unit could vary greatly.
Selecting the right Wine Cellar Cooling Units
When you pick your wine cellar cooling unit, there is usually an external temperature display on it. The wine cellars' cooling unit will help you monitor and regulate your wine cellar's temperature. With some units this display can be placed in a spot inside or outside of your wine cellar. On others it is attached to the unit itself. This temperature display will show you how hot or cold your cellar is, and if the temperature fluctuates out of your preset range, it will "tell" the cooling unit to readjust the temperature inside the cellar. This should happen automatically.
Because your wine cellar, as one expert puts it, is "dark and damp," always install moisture-resistant materials during the build-out of the project. These materials can be covered with a latex paint.
Depending on how you plan to use your wine cellar (is it for an investment, or do you plan to drink the bottles of wine you will store in your cellar), you will want to choose the best cooling option for you. Wine cellar specialists can help you decide the system to put in place in your home.
Incorporating a wine cellar into your house is not overly complicated. Doing it right means taking your time, focusing on efficiency, and making sure you have the right people helping you make the right decisions that will best protect your investment and give you your desired result.
Wine storage is much more than the wine you choose to store inside. In fact, the wine, contrary to what you might think, is less a factor in an effective wine cellar than the cellar itself.
For custom wine cellars of course, ultimately, the wine inside your wine room is what will matter, but in the beginning, and, to some degree, going forward, the cellar itself is what will make or break your collection. Without the right temperature and humidity, and in less than ideal conditions, the wine you hope to one day enjoy or sell (wine as investment is not as rare as you may think) will not be there. Instead, with some careful planning, forward thinking, and the right cellar, how you want your wine to be when you one day drink it is achievable and very possible.
Some people choose to build their custom wine cellars in their basements, and while this may be the best space in your home in which to create a cellar, (assuming you actually have a basement) keep in mind that the conditions in your basement are not necessarily ideal for wine storage or more importantly the proper aging of your wine collection.
Also you should think create an environmentally controlled space for your wine collection. A wine cooling cooling system makes sure that regardless of the conditions outside, or even in your home, you are protecting your wine and your investment. Such a system also means that your cellar does not have to be in a basement. Effective wine cellar cooling units correctly controlling your wine rooms climate means the sky is the limit when it comes to cellar location, or is at least only limited by the size of your home.
Of course, where you place your wine cellar is based on how a cooling system can be installed. If installing a self contained unit, you need to be able to vent directly through the wall outside (only units specifically designed for extreme conditions) or to another room that is heat and air conditioned and is at least twice the size of your cellar.(the most cost effective method.) If using a split system, you can place your condenser up to 50 feet from the evaporator and either copper lines or ducting might be used. There are many ways and types of cooling systems.
Consult a wine cellar specialist to determine what can be used in your situation
You must choose the correct cooling unit for your wine cellar so that it cools efficiently for your particular conditions. Not only the size of the room, but the insulation, the door, where the cellar is located inside the home are all factors when determining the correct size of unit.  A wine cellar specialist can do a heat load calculation to determine the size of unit that you will need.
The correct unit can be counted on to keep your wine collection safe. You will find that temperature and humidity will become common words around your home, as these are the two aspects in your cellar that are key to your wine storage. Most units have digital controls. This type of control allows you to monitor the temperature in your cellar, and tell you instantly if there are any changes. The cooling units automatically run in cycles to maintain the correct temperature. Digital controls are part of most units, but if offered as an option, consider going with it, even if it adds to the price of your unit.