White Wine Cellar
Residential Custom Wine Cellars Chicago, Illinois – White Design Project
This Residential Custom Wine Cellar project in Chicago, Illinois, presented several design challenges as there where a number of unusual constraints we had to deal with due to the unusual nature of the room to be converted.  As it was situated under some stairs, it had a sloping ceiling and a very odd angled shape.  Custom wine cellars like this can be particularly tricky to design.
Custom Wine Cellars Chicago Illinois White Under Staircase Project
Our challenge was how to build a wine room that would be great looking, have a full wine cellar cooling system whilst also maximizing its wine storage capacity.  To get the best design we possibly could, we made full use of our creative team to produce several three dimensional drawings, trying different layouts until we found the optimal wine cellar design.
One of the more interesting design elements that we used to create a great presentation of the wine bottles was to make use of lattice horizontal wine racking.  Horizontal wine racks are great because they can be several or just single deep. Three deep measures 131/2 " or if single, they only measure 6″ in depth.  This allowed more storage and display racking where otherwise there would simply not have been enough room to have storage on both walls.  Horizontal style wine racks also have the benefit of a label forward presentation of the wine bottles making it very easy to manage a wine collection.
Where the ceiling slanted under the stairs we waterfalled standard 750ml wine racking.  We added to this a high reveal display row with special LED wine cellar lighting for aesthetic purposes and to allow the presentation of selected wines.  All the custom wine racks had crown and base moldings added with a toe kick to bring the racks off the floor.  These extra elements really finish the racks and create a fully customized look.  Lastly we added a triangular shaped quarter round display shelf set for continuity between racks and to allow further feature displays.  All the wine cellar racks were constructed in mahogany and left unfinished.
See custom wine cabinet options for under the stairs by Vinotemp. CLICK HERE!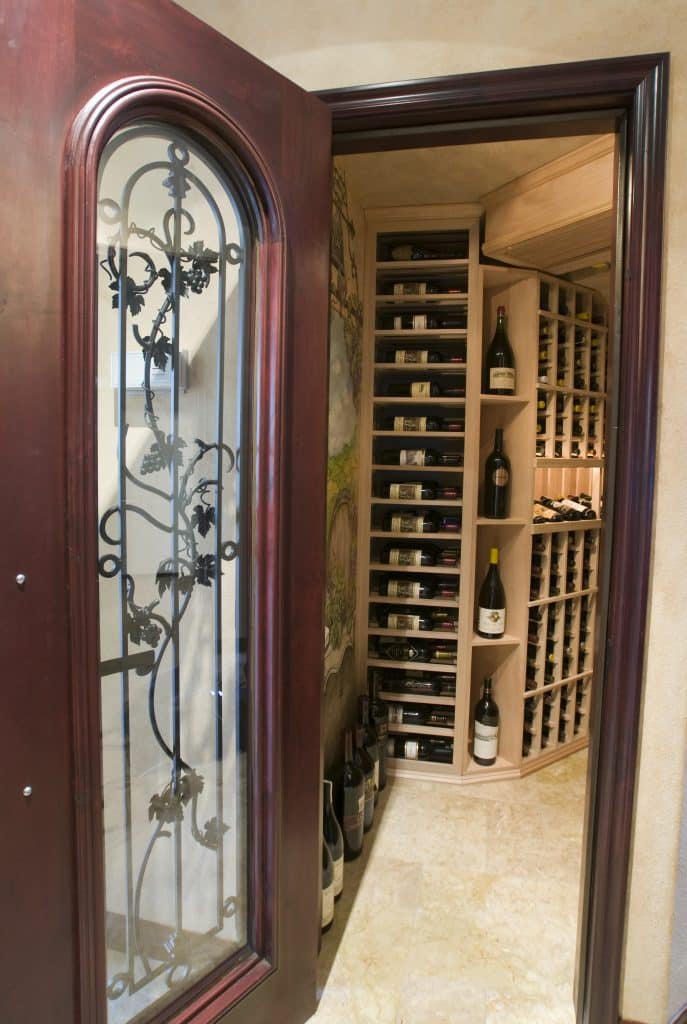 Wine cellar doorsare also very important in that they need to insulate and completely seal the wine room's cooled climate from the rest of the house.  This door was a
purpose built Tuscan custom wine cellar door
. It had arched dual pane glass, finished with a hand forged wrought iron grape vine design, creating a stunning entry to the wine cellar.  The wrought iron can of course be fully opened for cleaning purposes.
The wine cellar refrigeration system we used was an RM 2600 cooling unit from wine cellar refrigeration systems.  The advantage of the split systems for wine cellar cooling is that less space is taken up in the wine cellar itself. They can also be significantly quieter and more efficient than self-contained wine cooling systems. We also constructed a housing and a custom grill cover for the wine cellar cooling unit from the same material the wine racks were manufactured from, thereby making the cooling system virtually invisible.
If you have an oddly shaped area in your home that you may be considering converting into a wine storage area, feel free to make use of our free, no obligation, wine cellar design service.  Simply complete a simple wine cellar design form or go ahead and call us at our Chicago Design Office +1 (773) 234-0112. We would be more than happy to get you started.
If you would like to see more Chicago custom wine cellar projects, visit our wine cellar gallery where you will find many more project details and videos.
Home Wine Rooms Chicago Illinois White Project Drawings