Custom Wine Closet Cellars Builders Dallas Texas – Dann
Check out our award winning new custom wine cellar remodeling project we just completed in Frisco suburb of Dallas in the state of Texas. Originally this was an unused kitchen pantry under some stairs. Now it has been transformed into a beautiful fully customized refrigerated wine closet.
View of the Interior Custom Wine Cellar Project DallasAn underutilized space in your home should not go to waste. If collecting wine is your hobby, you can hire Wine Cellar Specialists to convert that room into a functional and impressive wine cellar without having to spend much. Learn how they transformed the small pantry in the kitchen of a family in Frisco, Dallas, Texas, into an award-winning refrigerated custom wine cellar.
Residential Custom Wine Cellars

Dallas,

Texas – Wine Closet Conversions Surprisingly Affordable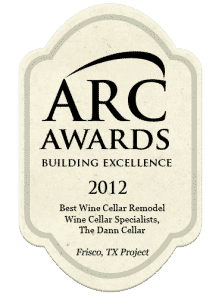 Custom wine cellars like this closet conversation are surprisingly affordable and do a great job of turning wasted spaces into substantial features that transform what would otherwise be average homes into something that leave an impression. Not to mention also providing endless enjoyment to the serious wine lover and their friends and family.
Proper Wine Storage Facility for Long- Term Enjoyment of Wine
When the wine has matured properly, you and your friends will enjoy every glass of it. To achieve this, it must be stored in a climate-controlled custom wine cellar. This is the main reason many residential owners have invested in a wine storage facility designed and built by an expert.
In building wine cellars, our primary goal is to provide racking and cooling solutions that will store and protect our client's precious collection for many years to come. We make sure that every wine cellar is appealing, provides the optimum environment, and maximizes storage capacity.
Wine Cellar Specialists has extensive experience in wine cellar construction. Recently, the Dann family in Dallas, Texas, wanted to transform their small pantry into a custom wine cellar. They requested us to create a design that would suit their aesthetic, functional, and financial requirements.
We received the 2012 ARC Award for the Best Wine Cellar Remodel for this closet conversion project.
Exceptional Wine Rack Design for a Small Space
Whatever the size and shape of your room, we will help you transform it into a stunning residential wine cellar. On this project, the pantry was located under the stairs. We had to design wine racks that would fit perfectly in the odd-shaped room.
We used Mahogany for constructing the wine racks. This type of wood is widely used in construction because of its beauty and stability. We had it lacquered to achieve a richer look.
We assembled the wine racks in the garage area and screwed the back stabilizers. The total bottle capacity was 496. However, the client was able to fit 514 bottles when the cellar was completed.
Before the installation of the racking, we created 3-dimensional drawings, which showed the various elevations of the wine cellar. Each elevation was labeled A (left wall), B (back wall), C (back wall), and D (right wall). These provided the owner a better visualization of the completed wine cellar.
Left Wall (Elevation A)
Since the pantry is located under the stairs, there is a slanted ceiling, located on the left side of the room. We installed a wine rack with slanted tops in the left wall to follow the descending height of the ceiling. It was intended for 750ml bottle wine storage.
We added a support rack where the back of the double-deep section comes out. Its function is to support the racks above it.
The racking is 13 ½ inches deep, has a 1 ½-inch toe-kick and base molding, and a 2 ¼-inch crown molding at the top.
Back Wall (Elevations B and C)
We divided the back wall into two elevations. Elevation B has the shortest rack in this custom wine cellar in Dallas. The bottom section consists of a double-deep X-bin storage rack, which allows for bulk storage. Each opening stores the bottles on top of each other.
We added a tabletop and a horizontal wine rack above it. The tabletop provides space for some of the owner's bottles, which are about to be consumed. It can also display some wine cellar accessories like decanters. The 3-deep horizontal wine rack stores the bottles with the labels facing out.
Elevation C is located on the right side of the back wall. The top and bottom sections allow for storing 750ml bottles individually. The middle section is a high reveal display row, which highlights some of Mr. Dann's bottles.
(Right Wall) Elevation D
The wine rack in the right wall was constructed with a depth of only 6 inches because it is close to the doorway. It is a single-deep horizontal wine rack that goes all the way up to the level of the door.
We installed the cooling unit above it. To make the refrigeration unit look like it was part of the racking, we concealed it in a wooden grill cover and box made from Mahogany. The grill cover is much larger than usual because of the way we had to run the lines for this cellar.
Adding the Proper Insulation – Essential in Maintaining a Stable Wine Storage Environment
Before installing the cooling unit, your wine cellar must be well insulated. Poor insulation can result in unstable storage conditions, causing a waste of investment.
The Role of Insulation in Controlling Temperature and Humidity in Custom Wine Cellars in Dallas
Ideally, the wine storage temperature must be between 55-65 degrees Fahrenheit to preserve wine's desirable characteristics before it is consumed. Excessive temperature fluctuations can cause premature aging, which gives the wine an unpleasant taste.
Humidity levels must be maintained within 60-70 percent. The cork will dry out, shrink, and become brittle if the humidity is too low.
When this happens, an unwanted amount of air will come in contact with the wine and spoil it. Going above the normal range can trigger mold growth on your walls and racking, damaging their structural integrity. Mildew can also form on the cork and wine cork.
On this project, we installed an insulation using green board, which is a moisture resistant material recommended by Dallas master builders for the walls and ceiling of refrigerated custom wine cellars. We also added a vapor barrier and painted the walls.
Cooling the Cellar with a Commercial Grade Wine Refrigeration Unit
At Wine Cellar Specialists, we offer different types and brands of wine cooling systems. We make a careful assessment to help us determine the most suitable refrigeration unit for your wine cellar.
We used an RM 2600 cooling unit split system on this project. We placed the evaporator inside the wine cellar, hidden in a grill cover box.
We could not run the drain line at an angle with a gravitational flow, so we had to add a condensation pump below the cooling unit. This helped pump the condensation up before it could run down. The split system and drain lines go up and across the kitchen ceiling, and into the garage.
Wine Cellar Door and Lighting
For the entryway, we installed a Tuscan style, rectangular door. It has an arched glass with an ornate wrought iron design. We applied a custom stain to match their existing kitchen cabinets.
We also added a custom molding to match the rest of the moldings in their home. We added an automatic door bottom to prevent scratches on the flooring.
The LED spotlights, which we installed on the left wall, can be pointed to different directions in the cellar. One of the advantages of the LED lighting system is its low heat emission. Too much heat can damage wine.
Although more expensive than regular bulbs, LED lights are known to have a longer lifespan and consume less energy, saving you more money in the long run. If you want to illuminate your wine cellar dramatically while keeping your collection safe, the LED lighting system is the best option.
Considering Your Residential Wine Room Conversion Project? Work with a Specialist.
If you have an underutilized area in your Dallas home and would like to explore the possibility of turning it into a home wine cellar, simply call +1 (972) 454-0480 or complete the custom wine cellars design request and get a FREE 3D Design of your own.
In the videos below we will talk you through the design considerations of this Texas custom wine cellar project. We show you lots of detail including how the racks arrive and are assembled, before and after steps of the build process and how the wine cellar refrigeration system is installed and what it looks like once completed.
Custom Wine Cellars Texas – Part One – Dallas Dann Closet Conversion
Custom Wine Cellars Builders Project Dallas Texas – Dann
Custom Wine Cellars Texas – Part Two – Dallas Dann Closet Conversion
Custom Wine Cellars Texas – Dallas Dann – Part Two
Texas Residential Custom Wine Cellar Project – Full Image Gallery
We hope you enjoy seeing the full set of before and after images of the custom wine cellar project. If you have an underutilized area in your home and would like to explore the possibility of turning it into a home wine cellar simply call +1 (972) 454-0480 or complete the custom wine cellars design request and get a FREE 3D Design of your own.
For more ideas of what's possible check out other Custom Wine Cellars Dallas Texas Designs.