Custom Wine Closet Cellars Builders Dallas Texas – Dann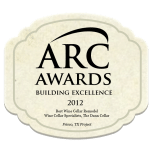 Check out our award winning new custom wine cellar remodeling project we just completed in Frisco suburb of Dallas in the state of Texas. Originally this was an unused kitchen pantry under some stairs. Now it has been transformed into a beautiful fully customized refrigerated wine closet.
Residential Custom Wine Cellars Texas – Wine Closet Conversions Surprisingly Affordable
Custom wine cellars like this closet conversation are surprisingly affordable and do a great job of turning wasted spaces into substantial features that transform what would otherwise be average homes into something that leave an impression. Not to mention also providing endless enjoyment to the serious wine lover and their friends and family.
This unique wine closet wine cellar was designed with a Tuscan Custom Wine Cellar Door with a square top, arched dual pane glass with a wrought iron inset. The door has a custom stain to match the existing cabinetry in the home and included custom moldings to match the existing molding style in the home.
The wine racks themselves were built in a rich mahogany with a lacquered non-aromatic finish. At Wine Cellar Specialists we only use lacquers that do not create odor that can interfere with the proper aging of wine. Remember even the slightest odor in a room that is sealed most of the time, can build up and adversely affect or potentially even ruin your fine wine collection.
Custom wine cellars benefit in most cases from a climate control system. In some states such as Texas temperatures and humidity often vary much more than most people realize from day to night and through the seasons. Constant changes like this can cause wine to react negatively. To ensure a constantly stabilized environment of exactly the right temperature and humidity we like to install wine cellar refrigeration units from US Cellars. In this case the Rack Mount 2600 Wine Cooling Unit split system was used in the racking itself and hidden from view by designing a matching grill cover and box. The compressor unit was placed in the garage, up high on a cabinet, out of harm's way where any noise it generated would also be minimized. In the second video below we show you exactly how the wine cellar cooling units are installed.
The installed custom wine racks design consisted of lower double deep solid X bin racks with a wine tasting tabletop. This allows bulk storage of case lots of wine with we added additional double deep horizontal displays above. This mix created an elegant designed look while at the same time maximizing storage capacity. We also designed in a full wall of horizontal single deep wine racks and a waterfall style rack specially constructed to follow the slant of the under staircase ceiling.
In the videos below we will talk you through the design considerations of this Texas custom wine cellar project. We show you lots of detail including how the racks arrive and are assembled, before and after steps of the build process and how the wine cellar refrigeration system is installed and what it looks like once completed.
Custom Wine Cellars Texas – Part One – Dallas Dann Closet Conversion
Custom Wine Cellars Builders Project Dallas Texas – Dann
Custom Wine Cellars Texas – Part Two – Dallas Dann Closet Conversion
Custom Wine Cellars Texas – Dallas Dann – Part Two
Texas Residential Custom Wine Cellar Project – Full Image Gallery
We hope you enjoy seeing the full set of before and after images of the custom wine cellar project. If you have an underutilized area in your home and would like to explore the possibility of turning it into a home wine cellar simply call +1 (972) 454-0480 or complete the custom wine cellars design request and get a FREE 3D Design of your own.
For more ideas of what's possible check out other Custom Wine Cellars Dallas Texas Designs.