Custom Wine Cellars Michigan Rochester Hills Detroit – Bob's Cellar
Bob's wine cellar is a really unique custom wine cellar. As custom wine cellars go this one is really tall, at 14′ it's probably the tallest commercial wine cellar we have created outside of the hospitality industry. Constructed in unfinished premium redwood and with a total capacity of 1,508 bottles of wine it packs a lot of capacity into a very limited floor space.
Integral to this design is a highly functional yet good looking rolling ladder which can be unhooked and used for either side of the cellar. As the ladder is so high we included dual hand rails for safety.
This wine cellar also has feature windows which allow the custom wine racks and wine bottles to be viewed from the outside, a very unusual feature that creates a very dramatic look. The custom wine cellar is actually located in the center of a larger dining room making it a real center feature in the restaurant.
As you can see in the video tours of this project, the wine racks are an elegant mix of solid diamond bins, high reveal display rows and lattice horizontal displays. The high reveal display rows allow highlighting with concealed wine cellar lighting, featuring special wines and the diamond bins allowing mass wine bottle storage. The whole custom wine rack build is finished with bottom toe kicks and crown moldings to provide a very custom purpose built look.
Custom Wine Cellars Michigan Rochester Hills Detroit – Bob
There's also a double deep section which creates a table top for presenting a tasting wines. The table top has a feature arch with special lighting which is viewable from both the front and the back due to the windows. The arch is finished with a hand carved grape vine design. These features really are individually hand carved by our craftsmen, creating a really unique non mass produced look.
On this custom wine cellar the mix of regular and three deep horizontal displays, diamond bin and a feature arch all backed with windows, I'm sure you will agree creating a really unique and stunning look.
Wine Cellar Specialist wine cellar builders have a presence not only in Rochester Hills Michigan but also in and around Detroit in cities such a Birmingham, Novi, West Bloomfield, Bloomfield Hills, Canton, Plymouth and Clarkston.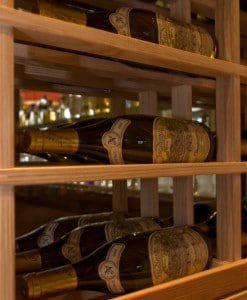 If you have a desire to convert a room in your home into a stunning residential wine cellar, or consider upgrading your presentation of wine in a commercial setting consider taking advantage of our no obligation custom wine cellars 3D design service. Simply complete the request and we will create a unique design just for you, complete with a solid and competitive quote.