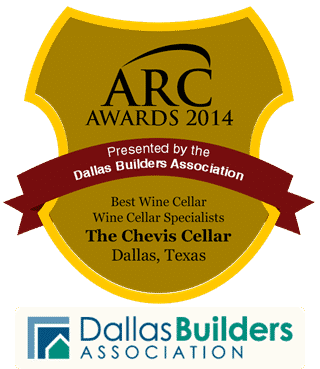 Challenges in wine cellar construction are unavoidable, but with an expert, you will enjoy your unique storage space and the wines stored in it for years to come. Find out how Wine Cellar Specialists was able to create an elegant residential wine cellar design for a client in Dallas, Texas.
An Efficient Solution for a Wine Collector in Dallas, Texas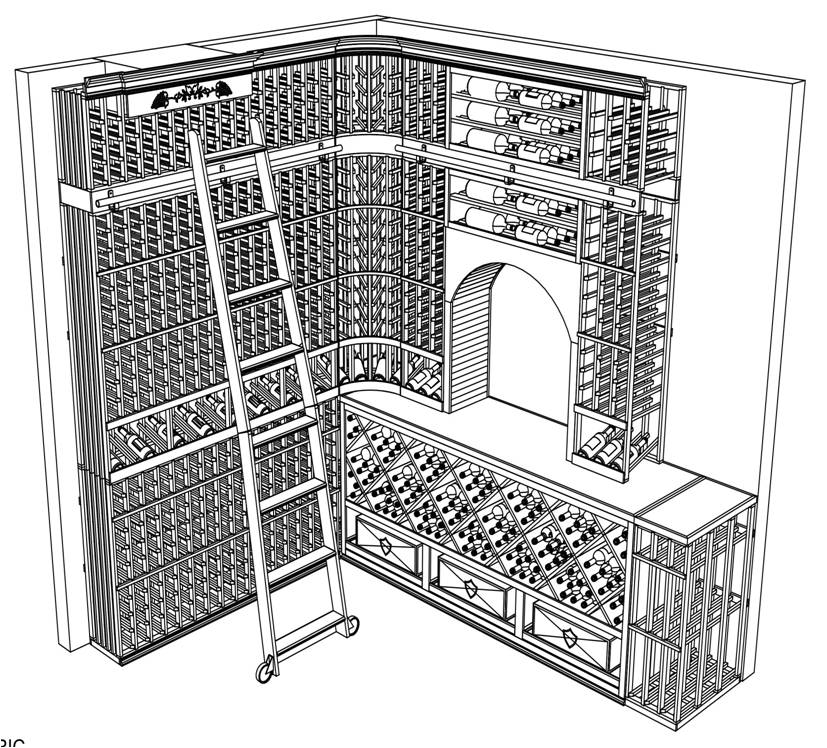 Most builders face one or more challenges in wine cellar construction. These challenges may include figuring out how to give the wine room a clean look despite an intrusion on the wall, how to maximize the storage space and how to provide the owner easy access to his bottles.
Without careful planning, your wine cellar will result in waste of time and money. Your chosen residential wine room builder should be able to provide the most suitable storage solutions for your needs, despite the challenges.
The main reason many people in many parts of the world, including Dallas, Texas, invest in a climate-controlled residential wine cellar is to prevent wine from getting damaged by heat, vibration and odor.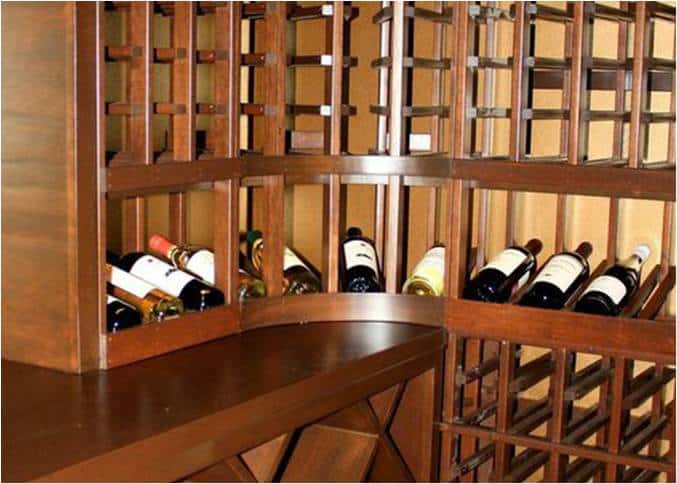 Beautiful wine displays are also important for homeowners who want to enjoy viewing their favorite vintages or show-off their collection to their visitors. For these reasons, many homeowners invest time and money to have an elegant storage place for their wines.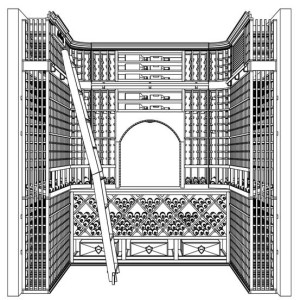 To achieve both functionality and beauty, every element of your wine cellar must be considered carefully by your chosen builder at the planning stage.
After knowing all your requirements, a professional wine room designer and installer should be able to create a layout and design that is visually appealing, maximizes your storage space and allows easy access to your wines.
Essential features must also be incorporated into the design for convenience and aesthetic purposes. At Wine Cellar Specialists, we always take the planning stage seriously to overcome any challenge. In our recent project in Dallas, Texas, we made our client happy by providing them with the most suitable storage solutions.
We were chosen by the Chevis family to build a wine cellar in their home. After careful assessment of their available space and storage needs, we were able to provide an efficient solution. We found a way to maximize their space for storage and hide an unwanted intrusion on the wall. The result is a well-designed home wine cellar with impressive features.
A Unique Custom Residential Wine Cellar Design
Mahogany Residential Wine Cellar Design in Dallas, Texas
A functional and elegant residential wine storage room for the Chevis family was installed by Wine Cellar Specialists, a leading company in Dallas, Texas. As with most of our projects, we encountered a few challenges in building the Chevis wine cellar.
Despite the challenges, we were able to create a functional and appealing custom wine cellar design. The result of our passion and expertise in wine room construction made the owners happy.
Wine Rack System with Custom Features
The overall look of a wine cellar is determined not only by the design, but also the material used for the wine racks. For this reason, it is best to discuss your aesthetic requirements with your chosen builder in Dallas, Texas before the construction stage of your residential wine cellar project. This will help you achieve the look that you want for your storage room.
Wine Rack Design
In this project, we used mahogany wine racks stained and lacquered with chestnut color. To maximize the storage capacity of the room, we extended the height of the racking all the way to the ceiling.
The left wall was installed with individual racking for 750ml bottles and a high-reveal display row. The display row allows the owner to highlight specific bottles in the mahogany wine racks without obstruction. This shelf is pitched at a 15-degree angle to maintain moisture in the corks.
In the upper section of the left wall, we found a duct of the air conditioning system vented to the adjoining room. We wanted to make use of the space, so we built custom ducting to make it shallower, wider, and as close to the ceiling as possible.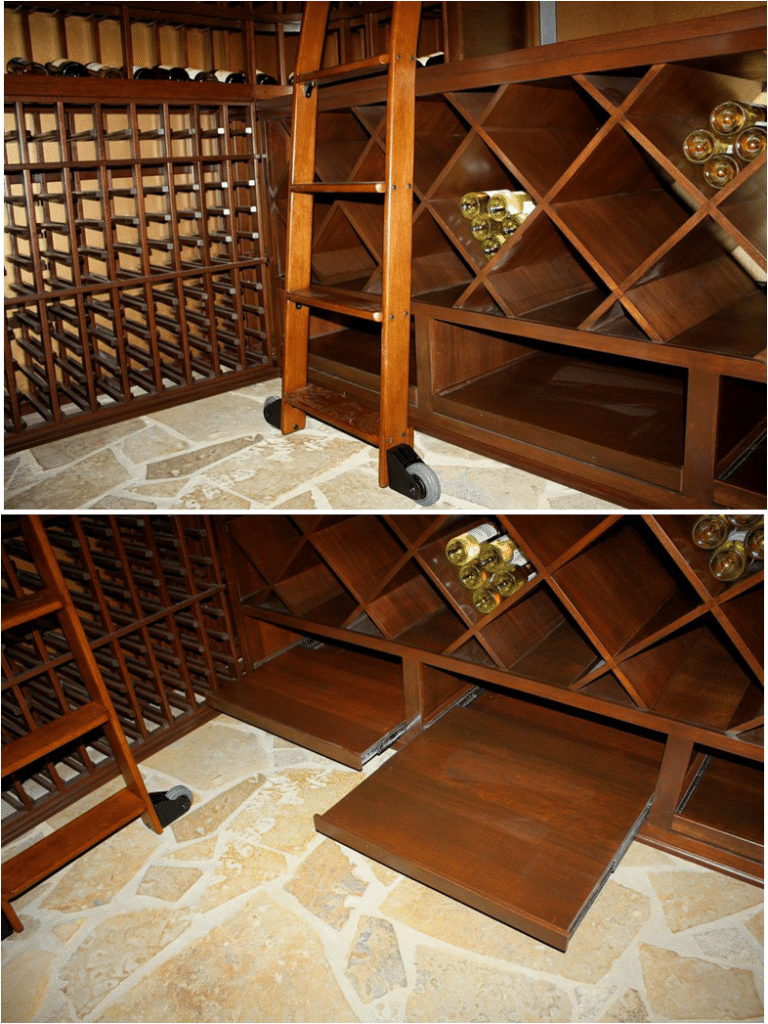 A solid panel of wood was added in front of the hidden ducting. We incorporated a hand-carved grapevine design at the front to make this section of the racking look attractive.
The back wall has solid horizontal display rows at the top center, intended for large format bottles such as magnums. Below these rows is the solid arch with tabletop, which adds a touch of elegance to the wine room.
The tabletop, which extends up to the curved corners of the racking, provides the owner a space for decanting or displaying stemware and other wine accessories. The half-high curved corners have a curved display row for featuring specific vintages.
Below the tabletop are double-deep solid diamond bins, which store wine in bulk. This is also ideal for large bottles. The lowest portion of the back wall consists of double-deep rolling case storage for easy access to the front and back cases.
Like the left wall, the right wall has a display row and individual racking for 750ml bottles. The top portion of this wall is where the evaporator coil of the ductless split wine cooling system sits behind the grill cover and box.
The completed wine cellar can store up to 1,391 bottles.
The Rolling Ladder – a Unique Feature of the Chevis Residential Wine Cellar in Dallas, Texas
Since the wine racking extends all the way to the ceiling with a height of 119 inches (9.9 feet), we decided to add a bent rolling ladder, allowing our client to access the double-deep sections on the back wall and side walls.
The ladder can be moved to any other three walls of the wine room. It comes with contemporary-style wheels and was constructed from mahogany. For a beautiful finish, we used chestnut stain and lacquer, complementing the wine racks. The rails are attached to the 4-inch wood section that is included in each of the racks. These steel rails are coated with matte black powder.
The rolling ladder is useful for accessing bottles beyond normal reach and adds style to your wine room. For the sake of convenience and style, many wine collectors with high wine racks invest in a rolling ladder.
Custom Wine Cellar Door
A uniquely-designed door adds aesthetic value to a residential wine room.
Using Mahogany, wrought iron and glass, we constructed a beautiful entryway for the Chevis wine cellar based on the input of our clients and design team. We designed it with knots, swirls and diamond shapes.
We applied chestnut stain and lacquer on the arched door. The wrought iron is operable, making it easy for the owner to clean the dual-pane glass panels behind it.
The entryway comes with an automatic door bottom, Q-lon weather stripping and commercial grade ball-bearing hinges. These features will ensure that the door creates a complete seal, preventing cool air from escaping the wine cellar. Wrong construction of the door will not only damage your wine, but will also affect the efficiency of your wine refrigeration system.
Eco-Friendly Feature
Another great way to make your wine storage space unique is to incorporate eco-friendly features. In this residential wine cellar design in Dallas, Texas, we used cooperage reclaimed wine barrel panels for the ceiling. The top and bottom sections of the barrel were utilized to create a distinctive ceiling.
We love to re-purpose used wine barrels to create one-of-a-kind wine cellars for our clients and help save our planet.
Let a Master Builder Create an Elegant Wine Cellar for You
At Wine Cellar Specialists, challenges can't stop us from creating wine storage spaces with amazing features. In our recent project in Dallas, Texas, we were able to make the Chevis residential wine cellar an attractive and functional wine storage space despite an intrusion on the left wall. What are you waiting for? Talk to one of our specialists today at +1 (972) 454-0480.