Elegant wine cellars are in demand worldwide because of the aesthetic value they add to a living space. They also allow wine connoisseurs to show off their precious collection in a unique way. Wine Cellar Specialists, a wine storage expert, offers a series of stunning  metal and acrylic wine racks from Kessick called eleVate. This series of metal wine racks is designed and built to create a stellar presentation of your precious wines.
Choosing the Right Wine Racking for Your Collection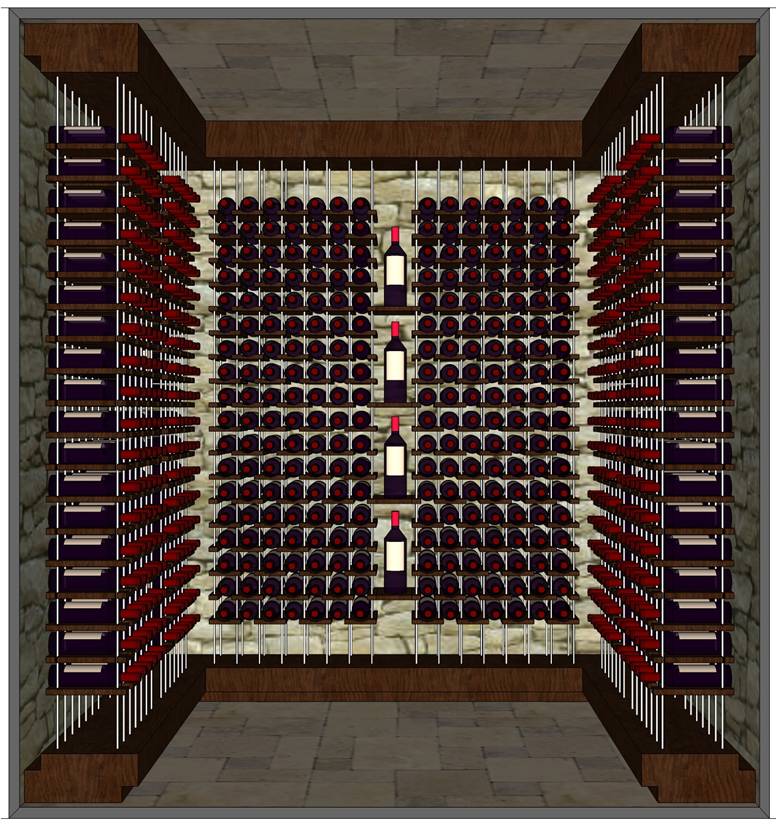 With so many types of wine racks in the market today, it can be challenging to choose one that best suits your storage needs and style. Not getting the right wine racks will cause regrets and waste of money in the future.
For example, it's not uncommon for people to regret making a purchase afterwards. If you realize after your wine cellar is installed that your racking doesn't feel right, that can be a very expensive mistake to fix.
To avoid future problems, always consider beauty and function in choosing wine racks for your storage space. Efficient and elegant racking will make your home wine cellar not only an ideal location for aging your collection, but also a great place for enjoying wine with friends.
If you're not sure about what kind of storage racks to choose, it is best to seek the help of an expert. At Wine Cellar Specialists, we will assess all your needs and requirements carefully to determine the right type of racking solution for your custom wine cellar.
Metal and Acrylic Wine Racks – in Demand Storage Option All Over the World
The demand in metal wine racks around the world is increasing continually. Racking made from metal is a favorite option of wine connoisseurs who desire modern beauty in their wine cellar. Designed to mount on the wall, these metal and acrylic wine racks also maximize storage space. This is why they are recommended for tight areas, such as a walk-in closet, and space under the stairs.
In addition to sturdiness, this stainless steel / acrylic racking is ideal for offering a wide range of styles and designs. They can easily complement any existing theme of your living space. They are usually built with stainless steel rods, and designed to occupy wall spaces.
At Wine Cellar Specialists, we work with top wine rack manufacturers to provide our clients the most efficient and elegant storage display.
Designer Wine Cellars – eleVate for Elegant Wine Display and Storage Solutions

We trust Kessick Wine Cellars products when it comes to designing stellar and efficient wine racking systems. They do a great job of combining creativity and expertise, the key to designing racking solutions that exceed customers' expectations. Their racking systems are truly unique when it comes to quality, material, flexibility, and finishes. They have designed the eleVate Series wine racks to satisfy your desire to have an exceptional custom wine cellar.
Incredible Display with elevate Metal Wine Racks
At Wine Cellar Specialists, we proudly offer the eleVate Series wine racks from Kessick Wine Cellars. This one-of-a-kind storage system allows you to display your collection impressively. Whether installed in your living room, kitchen, or entertainment area, this racking option can make your wine cellar a focal point. The gracefully styled eleVate wine racks will take advantage of the empty space on your wall. These metal storage racks have features that make them a favorite of many wine lovers.
Bottle Cradles and Stainless Steel Rods Built with Sophistication
Imagine how the eleVate wine racks can transform an ordinary room into a stunning wine display. Sleek and modern stainless steel rods suspend the bottle cradles.
The cradles and other structural elements can be made of metal, wood, acrylics, or glass. Each bottle cradle is constructed to snap onto the rods, creating a very eye-pleasing bottle presentation.
The racking stores the bottles horizontally, with the closures facing the front. This also allows easy installation.
Stunning Wine Cellar Lighting
The lighting system is one of the most important components (see example opposite).  The lighting system contributes to the overall appearance and ambiance of your wine cellar design. Choosing the right lighting can create a really dramatic effect in your wine cellar.
With our eleVate wine racks, we use an LED lighting display. LED lights are not only energy efficient and safe; they are also a great way to highlight your collection in a unique way. The engineered rods span vertically between a soffit and base unit that provide structure, and house of the LED lights.
Need an Elegant Wine Storage Solution? Contact a Specialist.
Nowadays, many wine collectors don't just opt for quality wine cellars. For them, a wine cellar reflects the owner's personality, thus it is important to go for a racking that is designed with style and elegance.
eleVate metal wine racks are built to create a highly contemporary display of your collection. With bottle cradles suspended on stainless steel rods, you and your guests will enjoy viewing your wines with awe.
With offices in Dallas, San Diego, Texas and Chicago Illinois, Wine Cellar Specialists can build your own unique contemporary wine cellar .  Wherever you live in the U.S. Contact us today at +1 (877) 497-7263 or email us at info@winecellarspec.com and have us help you create your own stunning wine display.