How you display and store your bottles of wine in you wine cellar is as important, if not more important, than the construction of your wine cellar itself.

Display Your Wine Collection Beautifully and Efficiently. Choose the Right Wine Racks.
Before you can design and/or pick the right racks for you, you need to consider how many bottles of wine you already own, how many bottles you are planning to acquire, how many bottles you will store at one time, and how long you plan to store your wine before you consume it.
For example, if you have 12 bottles of wine, and you think you'll drink them all in the next three or four months, you may only need one rack.
But if you have more than 50 bottles, and you think you'll hold onto them for one to 10 years, then you need to consider getting or building a custom wine rack that can store hundreds of bottles (because, let's face it, you're probably not going to stop with what you currently have!).
Wine Rack Material – an Important Factor That Contributes to the Overall Appeal of Your Dallas, Texas Wine Cellar
How you want your racks to look will determine the material you pick for your racks.
Metal Wine Racks
A more modern look means metal racking, metal wine racks are usually dramatically modern. They add luxurious appeal to wine storage spaces.
For those who want to bring their dull walls to life, wall mounted metal wine racks are recommended. These metal storage units are ideal for limited wine storage facilities. On the other hand, floor standing metal racks occupy floor space, which make them suitable for large wine rooms.
Metal wine racks manufactured by Vintage View are designed with a label forward orientation. This feature allows for easy browsing of specific bottles. With labels facing out, there is no need to flip the bottle, preventing sediments from being disturbed. Disturbing the sediments can ruin wine's quality.
Wood Racking
Going the traditional route? Then go with wood (most traditional kit and custom wine racks are made out of pine, redwood, or mahogany). Going for a unique look? Consider custom oak reclaimed wine barrel racking. And keep in mind that with reclaimed wine barrel racks, you will also be rewarded with the smell of a winery when entering your wine cellar as it permeates the racking.
The size of your racks will depend on the space you have available. Modular kit wine racks come with several options of styles and height to fit your needs.
Both traditional racking and stackable modular kits are available as well as metal kit racking. We can help you choose what will work best for the size of the area you wish to rack.
What to Look for in Wine Racks
The look, stability and structure of y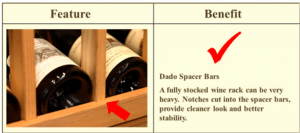 our system are all important to keep in mind when picking the right racks for you and your wine collection. Look at the way the racking is built.  Make sure that the hardware is completely concealed so that you and your guests can focus on the wine, rather than unsightly screws and screw covers.
Be sure that your racking has notched dados. This provides for a simpler installation as well as a sturdier finished product. Watch out for 90 degree sharp edge bottle supports.
Our "easy edge" bottle supports are triple-sanded and will ensure a safe place for your wine without tearing the labels. All ladders and bottle supports should also have a wood thickness of 11/16" to provide essential rack stability as well as a refined modern appearance.
Look for a 3 ¾" bottle cubicle size for standard racking. This will ensure an ideal fit for most 750's, odd shaped bottles and even regular sized Champagnes. You don't want to find after installing your racking that some of your Pinots and Bordeaux bottles don't fit.
If using curv
ed corner racks, look for a true radius corner, not segmented, to give you an updated furniture-like appearance. Be sure to use an odorless wood species naturally resistant to decay. This will provide the ideal environment for long-term applications. Species such as Poplar, Birch, and Cedar of any kind should be avoided at all cost.
A Dallas, Texas Wine Cellar Expert can Help You
Depending on your budget, your current collection of wine, and how many bottles you are planning to acquire, there is a rack system that is right for you. Here at Wine Cellar Specialists Dallas Texas, we have available wine rack kits in a variety of sizes and styles.
Our kits come in certain modules, which gives you a lot of choice. Kits are an economical way to store your wine. Check our some of our client projects such as the Custom Wine Cellar Dallas Howell project.
We can also customize racking for you and your needs. No matter the height or size you have in mind, we have a system that will work for you. Some of our customers have gone with waterfall racks, peninsulas, horizontal racks, rolling case storage, carved columns, and more.

And then, of course, we can install a combination of custom racks and kit racks. This is also another economical way of creating a rack system in your home.
We can help you, no matter your wine rack needs. Call us at 972-454-0480, or you can e-mail us at info@winecellarspec.com.