Residential & Commercial Wrought Iron Wine Cellar Doors
Check out Wine Cellar Specialist's selection of purpose built wine cellar doors in hand forged wrought iron. Designed to seal the cooled environment of your custom wine cellar, whilst at the same time add real pizazz to the looks of your wine storage room. Ideal and affordable for both commercial and residential wine cellar room and storage designs.
Wine Cellar Doors – Wrought Iron & Hand Forged Quality
Custom manufactured to meet your specifications.
Hot forged by hand and brought to life by skilled craftsmen that have years of experience.
Detailed auto cad drawing with complete design specifications
Standard door thickness is 1 ½"
Standard hardware spec is 2 1/8" bore, 2 3/8" backset, 5 ½" center to center.
Heavy duty ball bearing hinges
Pre-hung on a custom made steel frame.
Double door units include a custom T-astragal with seals and flush bolts to secure the inactive side of the unit.
Insulated with high quality polyurethane foam insulation pumped into the framing and the body of the door.
Constructed of a combination of 16 and 18 gauge steel.
Combination of foam and rubber weather stripping is used around the door frame, the glass frame, and the rubber sweep, making the door very weather tight.
Duel pane tempered glass.
Interior glass panels open independently from the doors to allow cleaning ease.
All hand forged scroll work utilizes solid 5/8" steel bar.
Layers of acrylic primer are applied to prevent oxidation. Two coats of a tough high grade acrylic black base are then applied. Finally, the unit receives two additional layers of the selected faux finish and two layers of a sealant to maximize the weatherizing process.
Although we can manufacture any design you desire, see below some of our most popular wrought iron wine cellar door designs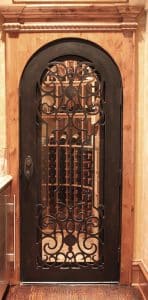 Price is determined by the size of the unit and design selected. Call for assistance Wine Cellar Specialists +1 (866) 646-7089 or click on this link Hand Forged Custom Wine Cellar Doors and complete the simple contact request form.
Order your unique wine cellar door in plenty of time to be ready for your wine cellar project!
While very affordable each hand forged wine cellar door is still exactly that, i.e. they are purpose built individually for each client.
Production time is typically: 6-8 weeks.