Discontinued Page
Click Here to go to Current Content
Kessick Estate Design Series
This stunning range of custom and modular wine racks are as beautiful and they are cost effective.
The Kessick Estate Design series, "KED" for short, consists of four different groups of pre-designed modular wine racks. There are a wide range of widths and design configurations that include "X" bin storage, hanging wine glass displays, rectangular bin storage, arched center displays, mahogany table top, magnum wine bottle storage, display rows and pre-installed lighting options.
The Estate Series racking can also be customized to fit your needs. If the modular components offered are not exactly what you need, call us for a customized design.
Kessick Estate Design Modular Wine Racks
Shipped fully assembled
Sapele mahogany
Eased and tapered bottle supports
Integrated installation rail
Optional lacquer factory finish
Optional integrated LED lighting
Optional back and side panels
Complete installation package includes base platform, moldings, and fasteners.

Kessick Estate Design – KED1

>> View Kessick Modular Wine Racks (KED Series)
For a full understanding of the options, configurations and sizes available, watch our video tour below. This is such a versatile and cleverly designed modular wine rack range, that we feel sure you will be able find a design that is exactly what to want. If you would like help choosing the right product simply call +1 (866) 646-7089 or complete a simple wine cellar design request form.
Wall Mounted Wood Wine Racks
The Kessick Select Series
The Select Series is a fully assembled box construction wall hanging storage and display system designed for small to medium spaces. It is perfect for spaces with out of level floors and ceilings, existing baseboards and flood prone rooms.
The racks are wall mounted with super strong yet easy to install cleat hanging method. This is a specially engineered aluminum bracket that enables a fast secure installation.
The Select Series begin off of the floor and end below ceiling height, allowing for additional storage above and below the rack system.
Available in Sapele Mahogany, Red Oak or Alder.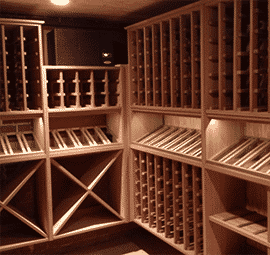 >>View All Select Series Wine Racks
The Kessick Contemporary Series
The Contemporary Series are a compilation of components and accessories that can be mixed and matched to create a variety of contemporary design applications. Twenty modular variations can be used separately or in groups. There are both wall mounted and floor mounted designs.
Each design is ready to install and comes complete with hardware and accessories. Optional led lighting. Each component has 2 installation rails designed for a 4 point fastening application.
Each module has a 1 ¼" wall and is constructed from hardwood core plywood (no engineered materials) and has mitered corners. A face frame is included in lacquered mahogany, black lacquer, or brushed aluminum (stainless steel look). Both the inside and outside of the box are lacquered in a satin, black finish.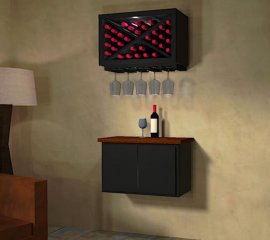 Contemporary Modular