Label Link – Perfect for Custom Wine Cellar Expansion

With several wine racking options available, it is best to determine your storage needs and requirements. Wine enthusiasts will often want to find options which allow them to showcase their collection in their custom wine cellar. For them, their wine storage room should not only be a place for storing their precious wines in optimal conditions, but also a place for entertaining guests and displaying wines in a modern and stunning way.
Easy Expansion and Design Flexibility for a Growing Collection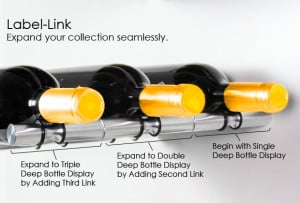 When building a wine cellar, it is recommended that you plan for the future growth of your collection. Wine Cellar Specialists offers Label Link, a horizontal-bottle display system which is perfect for a growing collection.
This wine racking solution is very convenient since you just need to add a new link into the existing structure for expansion. You can start with pairs of single-bottle displays, and if new bottles are added to your inventory you will spend only for the additional links.
For other traditional wine racking systems, you will spend more because you need to replace everything. For the bottle density, you can choose between the lite bottle and max bottle options.
Components of Label Link have been built and designed with expertise to accommodate your bottles securely. Label Link is crafted from machined-aluminum, making it wear-resistant. Label Link also allows maximum visibility of the wine bottle labels in your custom wine room for you to locate a particular bottle easily.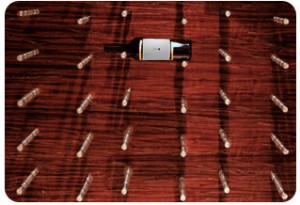 In addition to convenience in expanding your wine collection, our Label Link is built with flexibility of design. For the backsplash, a wide array of choices are available for wood materials, stain, and finish options. There are also stunning LED acrylic displays and modern stainless steel options.
Choose Label Link for a convenient and cost-efficient way of adding new bottles to your collection while giving your wine cellar a contemporary look and allowing you to show off your collection to your friends and colleagues. You and your guests will enjoy the floating appearance of your wine bottles and will find a particular wine in no time.