Efficient, Flexible, and Appealing Metal Rack System for Your Wine Cellar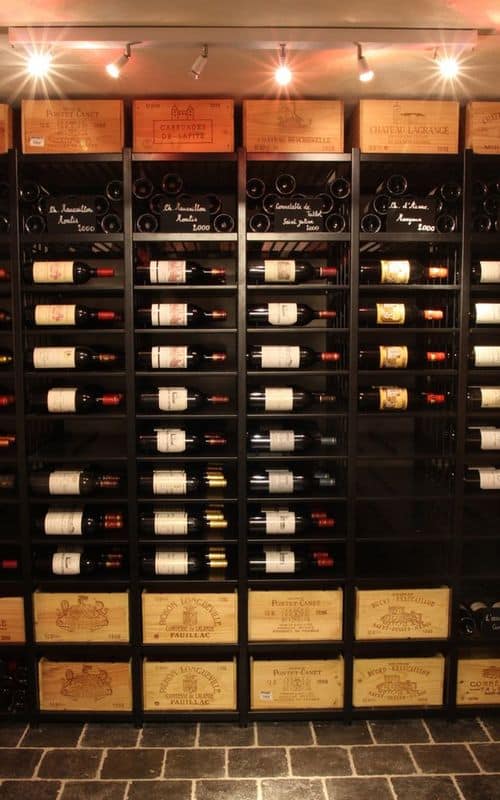 Are you looking for a flexible, efficient, and organized wine storage system? Our Degré 12 Classic metal wine racks can be customized to meet your aesthetic and functional needs. Learn more about the features and advantages of this innovative racking system.   
Degré 12 Classic Modular Wine Racks– a Stylish Choice of Storage Solution
When you work with a wine cellar master builder, you can expect that they will meet all of your storage requirements. In addition to safety, another important factor that must be considered when building a wine display area is visual appeal.
At Wine Cellar Specialists, we always make sure that every wine cellar design that we create adds character to our client's living space. We offer various wine storage solutions to cater to your unique needs according to your budget, existing décor, and room location.
We also offer customization options to make every collector's wine storage space as stunning as possible.
Classic Series Metal Wine Racks Can Complement Both Traditional and Modern Spaces
The meticulously engineered modular wine storage system is ideal for any type of wine storage space.
Its classic look stands alone or complements traditional wood racks. It is visually appealing in a modern setting or in front of stone clad walls.
Why Use Degré 12 Classic Series for Your Wine Display
Our Degré 12 Classic Series metal wine racks are recommended for both residential and commercial wine cellars because of their many benefits.
Residential custom wine displays built with this type of racking will surely create a focal point. This will let the homeowner showcase his or her wine collection with pride, and enjoy it for many years to come.
For restaurants, hotels, retail stores, and other commercial establishments, an eye-catching wine display is needed to attract the attention of potential customers. This can result in a profit increase.
High-Quality Materials
The Degré 12 Classic modular metal wine racks are manufactured by experienced craftsmen using premium materials.
They are made of black painted steel. However, you may choose other colors, which are available for custom orders.
We can help you determine the material and color that suits your aesthetic needs.
Height, Depth, and Width Options
With Degré 12 Classic Series metal wine racks, there are six height options that you can choose from.
59 ½"
68 ½"
78"
86 ½"
94 ½"
102 1/3"
For the depth, you can opt for 13.8" (single-deep) or 26" (double-deep). Double-deep wine racks are ideal for small areas. The width is customizable using sections that are approximately 16″ depending on the placement.
Custom Options for a Unique Wine Display
One of the main advantages of custom wine cellars is that you are allowed to combine various racking styles and configurations to create a stellar display of your favorite wines.
Four Styles of Trays for Easy Access of Wines in Your Wine Cellar
With Degré 12 Classic Series metal wine racks, you can combine the different styles of trays.
We have the sliding tray for bottles, which makes the wines very accessible and holds more than one case each tray. All of the trays hold all size bottles.
Another type of tray is the sliding tray for wood cases. It makes the bottles very accessible and shows off the box.
We also have the fixed trays, which make use of stainless steel rods to hold the bottles. Each section can be spaced to hold one or more layers of bottles.
If you have odd shaped bottles in your wine collection, fixed trays with metal bottoms for bottles are recommended. You may request small metal blackboards to note the contents of the tray.
Lighting Option
Optional LED lighting is available. It is installed close to the floor in the rear of the vertical section, throwing light upwards between the wall and the racks.
You may also opt for backlighting to illuminate the entire wine cellar with drama.
Flexibility and Maximized Storage Capacity
This line of Degré 12 modular racking system offers flexibility, which makes it an ideal choice for wine enthusiasts who don't have a full-sized room for building a climate-controlled wine cellar.
Its installation does not need removing old walls and building out new ones.
We will assemble the wine racks on site for you. They can be placed in the corner or center of your wine room. We can optimize the capacity of small or narrow spaces like garage, walk-in closet, or crawl spaces.
Display Your Wine Collection with Appeal
A modern and unique custom wine cellar can be yours. Wine Cellar Specialists can create a metal wine rack system that will display your prized collection beautifully.
Contact us today at +1 (866 ) 646-7089!