Space-Efficient Storage Solution and High-End Wine Display with Ultra PEG HZ Series Metal Wine Racks
Maximum efficiency and elegance are the top priorities of wine collectors when it comes to choosing the racking system for their wine cellar. One of the smart innovations in the wine storage industry is the use of pegs in building wine racks. At Wine Cellar Specialists, we offer the Ultra PEG HZ Series metal wine racks for residential and commercial applications. Learn features and benefits of this wine storage system. 
Ultra PEG HZ Series Metal Wine Racks – a High-End Storage System for Wine Enthusiasts
Mediocre and traditional wine storage displays will not satisfy the aesthetic needs of residential and commercial wine cellar owners who want to show off their collection in a modern way. The type of racking plays a very important role in the finished look of your wine cellar, so make sure that you work with a knowledgeable builder.
Nowadays, modern wine racks are in demand among wine collectors in many parts of the world. At Wine Cellar Specialists, we offer a wide range of metal wine racks to cater to our client's needs.
One of these is the Ultra PEG HZ Series wine racks, which provide you and your guests the opportunity to enjoy sipping a glass of your favorite wine in a room dazzled with bottles stored in pegs.
If you are planning to build a wine cellar in your living room, garage, entertainment area, kitchen, closet, under-the-stairs space, or any area of your home, our Ultra PEG HZ Series wine racks will satisfy your functional and aesthetic requirements.
For storeowners, restaurants, hotels, and commercial establishments that sell wine, a high-end wine racking system can attract potential customers, resulting in increased sales revenues.
Whatever your needs are, Wine Cellar Specialists can create a unique design using our Ultra PEG HZ Series metal wine racks.
Features
The Ultra PEG HZ Series wine racks are crafted from a lightweight and durable material. Two pegs are required to hold one bottle. They are designed to accommodate various bottle sizes, including Magnums.
Each stainless steel rod is machine cradled and comes with soft and high-quality rubber o-rings. The rubber o-rings accentuate the rods and hold each bottle securely in place.
In the event of a minor earthquake, the bottles stored in the Ultra PEG HZ Series metal wine racks will not fall down easily because the rubber acts as a stopper.
This type of racking displays the bottles in a horizontal display orientation, with labels facing up to allow for easy browsing. You won't need to flip each bottle when trying to find a specific type of wine. Flipping the bottle can disturb the sediments and may alter the overall flavor of the wine.
Our Ultra PEG HZ Series metal wine racks are available in chrome, brushed aluminum, or powder coat, making it easy for you to match the existing décor of your home.
The pegs, which are highly resistant to corrosion, have been tested under actual conditions in a wine cellar. They can be attached to our custom backer boards or pre-made panels and channels.
Pre-Made Panels
We have horizontal and vertical mount pre-made panels in 3' and 4' lengths and heights. You may opt for Natural Wood, Stained Wood, Laminate, Acrylic, or Alumasteel panels.
Other 2' x 2' pre-made panels are available in Black or White Laminate, Alumasteel, Acrylic, Alder Wood, Cherry Wood, Red Oak Wood, Black Walnut Wood, and Maple Wood. You may also mount the pegs on your own materials.
Ultra Mount Pre-Made Channels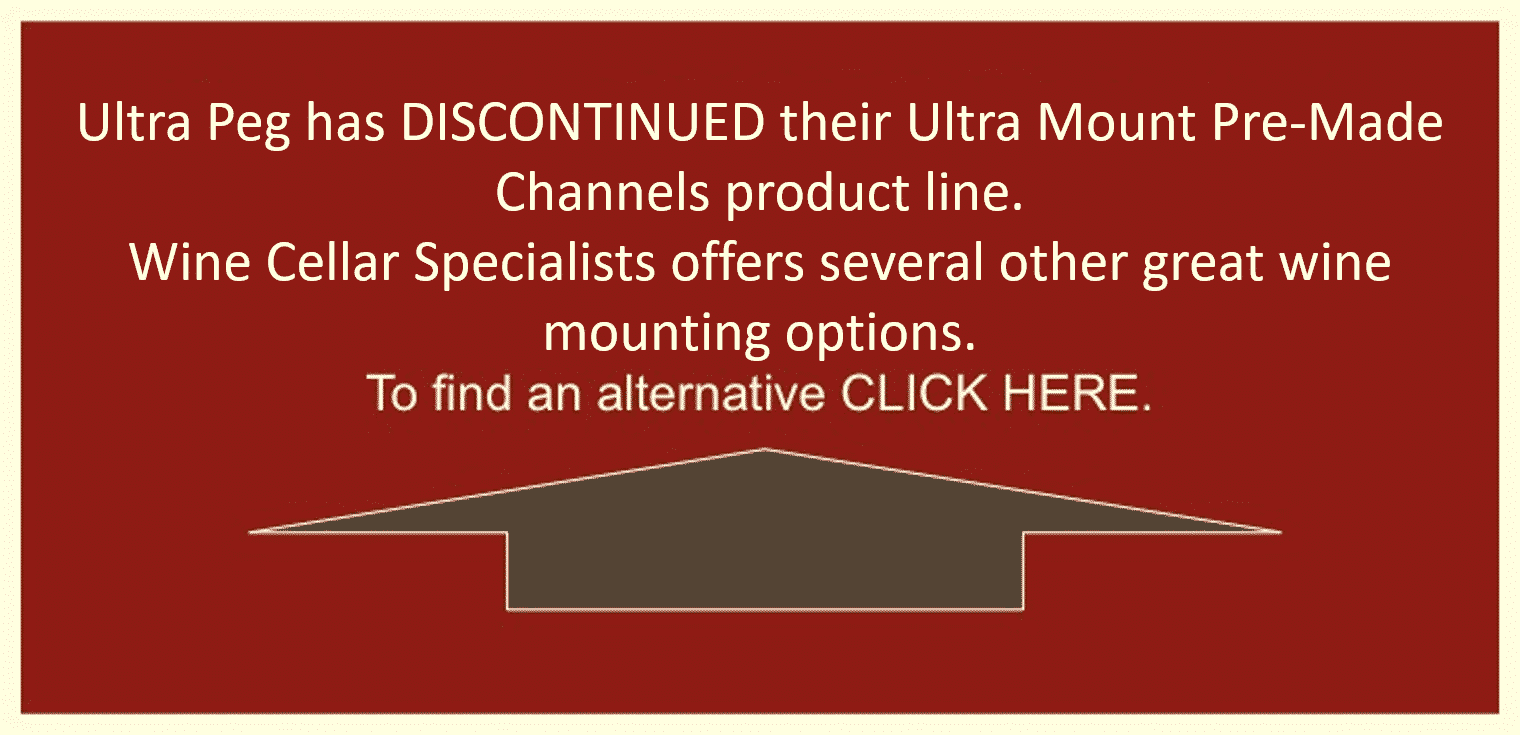 Our Ultra Mount pre-made channels are available in 36" X 4" x 10.5" deep (including pegs) and 48 X 4" X 10.5" deep (including pegs). For the finish options, you can choose between Chrome and Black.
Different Types of Ultra PEG HZ Series Metal Wine Racks
At Wine Cellar Specialists, we can experiment with unique mounting methods with the Ultra PEG HZ Series contemporary metal wine racks to create a streamlined and extraordinary display of each collection.
We offer Ultra PEG HZ Series wine racks in three depths: single, double, and triple to accommodate the specific needs of our clients.
Let Us Create an Ultra Modern Wine Room for You
Wine Cellar Specialists recommends the Ultra PEG HZ Series metal racking system in building modern custom wine rooms in Texas, Chicago, and Florida. Start your project today!