For Modern Wine Racks With Enormous Storage Capacity See Vintage View Evolution Series
Flexibility and style are the two most important factors to consider when buying wine racks for your home or commercial establishments. If you're looking for a high-end wine rack system that is easy to install, our VintageView Evolution Series metal wine racks can be the perfect storage solution for you.
Innovative Way to Store Your Precious Wine Collection
Wine racks are the in-demand storage systems to use in building wine cellars for the retail environment, hotels, restaurants, and homes.
VintageView Evolution Series wine racks are freestanding units recommended by Wine Cellar Specialists for wine enthusiasts who desire modern style.
This innovative solution makes use of steel rods which are engineered with precision. We can customize the height of these wine racks according to your requirements.
Label Forward Display Orientation
Our VintageView Evolution Series wine racks display the bottles in a label forward orientation. This allows for easy viewing of the wine labels.
At home, easy viewing means guests are served quickly and can enjoy perusing your collection.
In restaurants, wine stores, and hotels, this type of storage system will provide convenience to customers, saving time in finding their favorite vintage.
Additionally, there is no need to flip or remove the bottle from the rack to see the description of the wine. This will prevent disturbing the wine's sediments, preserving its complex taste and aroma, and allowing your collection to age for years to come.
Quality Material, Visually Appealing Finish, and Stability
At Wine Cellar Specialists, we ensure that every wine rack we offer is manufactured with high-quality materials. Our VintageView Evolution Series metal racking systems are constructed from steel rods with acrylic supports to create a streamlined wine display for our client's space.
There are two available finish options that you can choose from: Satin Black rods or Chrome Steel rods.
This line of racking is available in 4-foot, 6-foot, and 8-foot heights to cater to the room requirements of our clients. They are all constructed from premium acrylic sides and steel rods which are designed for wine enthusiasts who want a convenient way to extend their collection. For optimal stability, each unit must be fastened to a wall.
4-Foot Evolution Series Metal Wine Racks from Vintage View
The 4-foot Evolution Series wine rack is 47 inches in height, 3-bottles deep, and has nine rows. Each row can store nine standard wine bottles. Each unit has a total capacity of 81 standard bottles (750ml).
This free standing and label forward display racking is recommended for those who are just starting to collect wines and are planning to grow their collection in the future.
It is a compact wine storage system, which can be easily placed in any room or cellar. It allows LED and natural light to float through the clear acrylic sides of the 4-foot Evolution Series metal wine rack. The perfect combination of steel rods and acrylic panels create wine displays that are modern and elegant in design.
In case you want to add more bottles, you can opt for a 4-foot Evolution Extension. This will allow you to double the capacity of your 4-foot Evolution wine racks, creating a contemporary storage area for 162 bottles. The extension comes with rods for 81 more bottles, an acrylic wall, and hardware that will be attached to the base unit.
6-Foot High Evolution Series Wine Rack
Want to display your finest wine bottles in a modern "bookcase"? We recommend the 6-foot (72-inch) tall Evolution Series wine rack. With a total capacity 126 standard bottles, this label forward wine storage system can hold nine wines in each of the 14 rows.
You can double the display storage capacity of the base unit by adding a 6-foot Evolution extension wine rack. The extended wine rack can house 252 wine bottles in all. The storage unit is bookended with premium acrylic sides.
8-Foot VintageView Evolution Base Wine Storage Rack
A free standing and minimalist wine display can be achieved with our 8-foot Evolution VintageView metal wine racks. This storage solution allows you to store your 162-bottle collection, creating a wine display that will impress guests and customers. This 96-inch tall wine rack contains 18 rows, with nine bottles in each row,
Just like the rest of the Evolution wine racks, our 8-foot Series collection is bookended by premium acrylic sides to allow light to pass through. The modular nature of this racking system makes it able to fit in any number of configurations.
Our 8-foot Evolution extension doubles the capacity of the 8-foot wine rack base. This means that an 8-foot Evolution wine rack with extension can accommodate 324 standard wine bottles in 18 rows.
Custom Racking Options and Easy Installation
Customizing your wine racks plays a significant role in achieving a truly unique display of your collection.
Any of our Evolution Series wine racks can be combined with wood or other types of metal racking. This will allow our clients to use their creativity and add their personal touch to their wine storage system.
For the side panel, you can also choose a different style other than the acrylic. However, your chosen panel must be able to support our 12 mm round steel rods, finished in Chrome or Satin Black. Each Evolution support rod is connected to an end piece display panel.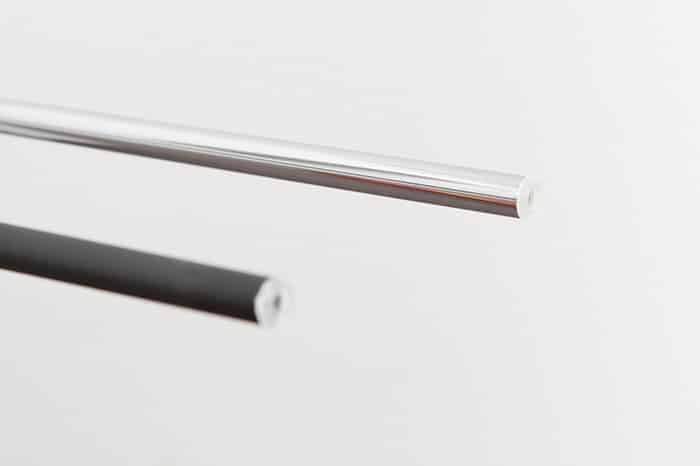 To complement your custom side panel, we offer options for your bottle supports, which include stone, steel, beetle-kill pine, or any material that can provide support to the rods.
Our VintageView Evolution wine racks are easy to install. Each package includes steel support rods, panels, Evolution screws and studs, and a 4 mm hex wrench. We recommend a cordless drill with torque clutch & 4 mm tip.
View the full assembly instructions for our VintageView Evolution Series metal wine racks.
Let Us Create a Gorgeous Wine Room with Modern Wine Racks
Wine Cellar Specialists can create a contemporary wine storage system for your residential room, retail store, hotel, or restaurant. Our VintageView Evolution Series wine racks offer many benefits, allowing you to store your collection securely and beautifully. Contact us today at +1 (866) 646-7089 or request a 3-dimensional design for FREE!