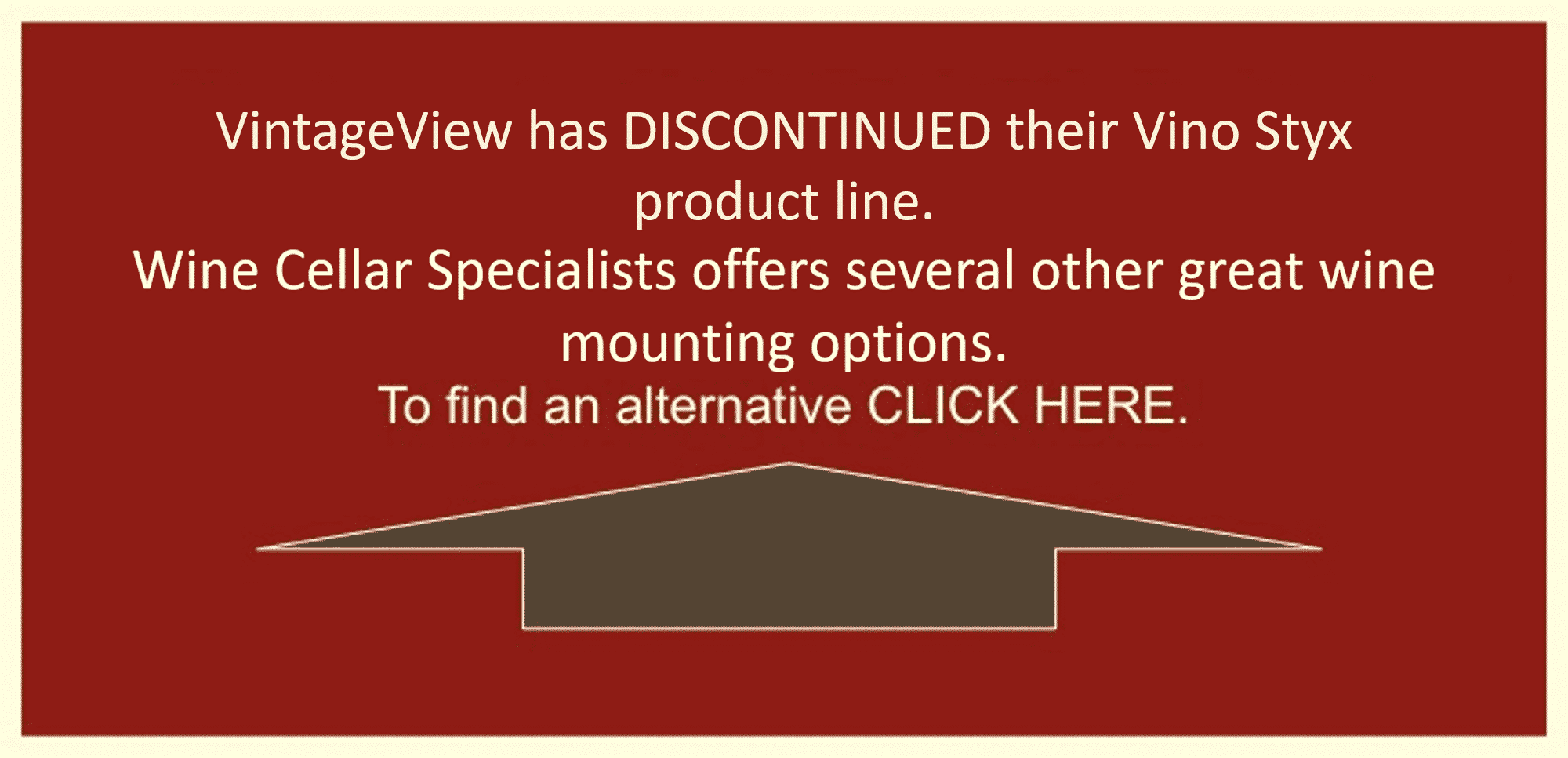 Choose VintageView Vino Styx for Creative Contemporary Versatility in Your Wine Display
One of the most versatile wine racking options available, the Vino Styx offer an endless assortment of designs for creative interior designers and wine cellar owners.
Label Forward Positioning
These durable steel constructed wine holders also allow for label forward placement of your wine stock—a handy feature, especially for commercial wine stores and restaurants, allowing for quick and easy identification of the right vintage.
Wine Rack Installation
VintageView recommends 13 inches overall width allowance for most wine bottles.
Installation of this wine rack option is pretty straightforward. It requires a level, drill, and pencil, making it a practical option for just about anyone to add to their wine storage space. Installing into the wall is a four-step process. Download PDF for detailed instructions.
Contemporary Solutions for Wine Placement
Vino Styx are a wonderful contemporary choice, in part because of the creative placement options. They also have a simple, modern aesthetic, which adds a minimalist sensibility to your contemporary wine cellar and tasting room.
The Vino Styx product has two beautiful contemporary finish options—brushed nickel and satin black. Racks by VintageView also have the option of custom powder coating in a wide variety of finishes. These many options allow innumerable design options for custom wine cellars and displays.
Product Features
Available in two finishes
$10 for Satin Black, $13.50 for Brushed Nickel
Right-facing bottle display
Durable steel construction
One bottle per unit
Attaches to any wall surface
Bottles can be displayed at any angle using the Bottle Retention Strap
Bottle Retention Straps
If there is an elevated risk of bottles falling from their placement on the rack, bottle retention straps are a great option. These can be particularly effective in earthquake prone parts of the country. Or if you know that there will be a lot of foot traffic around your wine display, retention straps are a smart idea. These also work well with the Vino Styx when placed diagonally, rather than horizontally.
Retention straps are not just good safety devices, but they facilitate greater levels of creativity in the placement of your wine display, allowing for many types of bottle angles.
Call Wine Cellar Specialists for VintageView Vino Styx
If you think that the Vino Styx are the right option for your custom wine cellar, give one of our design specialists a call. We'll be happy to help you find the right options for storing wine in your home or business.