Discontinued Page
Click Here to go to Current Content
Kessick Contemporary Modular
This series is a compilation of components and accessories designed as fully integrated wine storage furniture. Each pre-designed unit has a small footprint and can be integrated in a variety of contemporary design applications.
Options include both wall mounted and floor mounted designs. Each design is ready to install and comes complete with hardware and accessories. Optional led lighting.
Each module has a 1 ¼" wall and is constructed from hardwood core plywood (no engineered materials) and has mitered corners. A face frame is included in lacquered mahogany, black lacquer, or brushed aluminum (stainless steel look). Both the inside and outside of the box are lacquered in a satin, black finish.
Download Kessick Contemporary Designs Installation Instructions

Each component has 2 installation rails designed for a 4 point fastening application. These racks are built for
strength and designed to store and display your wine securely.
KC101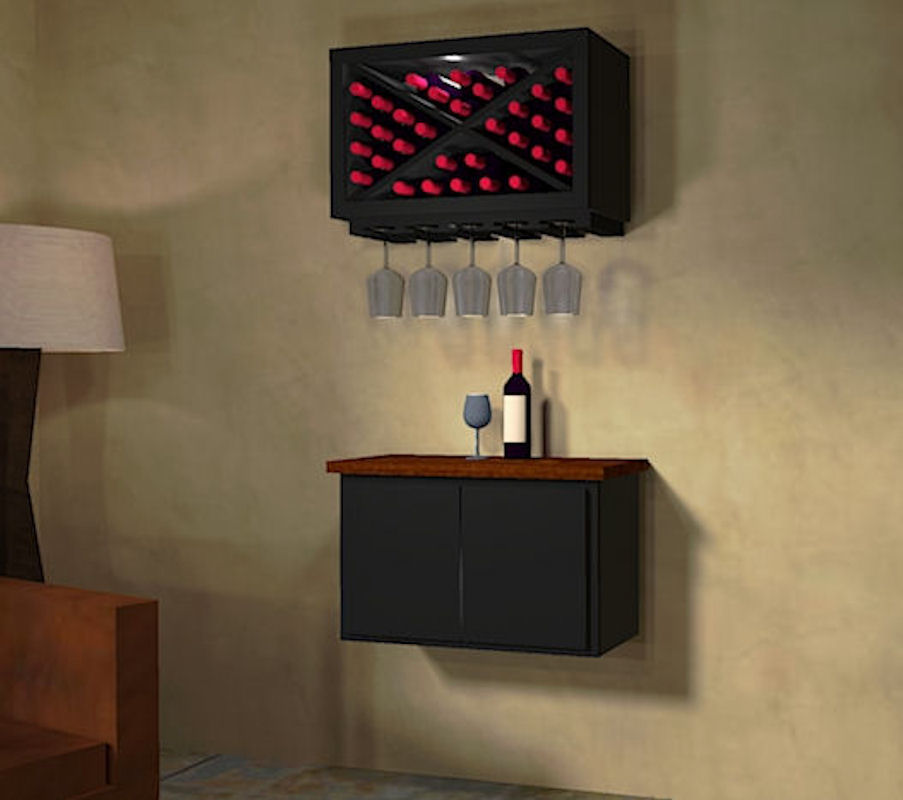 Wall mount
Black lacquered wood construction
Clear coated solid mahogany counter top
Optional lighting
No assembly required
Bottle Capacity:82
KC101: $1130.00
Optional Lighting: $149.00
Shipping: $225.00
KC102
Wall mount
Black lacquered wood construction
Clear coated solid mahogany counter top
Top and face frames
Optional lighting
No assembly required
Bottle Capacity:48
KC102: $885.00
Optional Lighting: $149.00
Shipping: $225.00
KC103
Wall mount
Black lacquered wood construction
Clear coated solid mahogany counter top
Brushed aluminum (stainless look) face frames
Optional lighting
No assembly required
Bottle Capacity:66
KC103: $1488.00
Optional Lighting: $149.00
Shipping: $225.00
KC104
Wall mount
Black lacquered wood construction
Clear coated solid mahogany counter top
Brushed aluminum (stainless look) face frames
Optional lighting
No assembly required
Bottle Capacity:66
KC104: $1201.00
Optional Lighting: $149.00
Shipping: $225.00
KC105
Wall mount
Black lacquered wood construction
Clear coated solid mahogany counter top
Black lacquered face frames
Optional lighting
No assembly required
Bottle Capacity:63
KC105: $1103.00
Optional Lighting: $149.00
Shipping: $225.00
KC106
Wall mount
Black lacquered wood construction
Clear coated solid mahogany face frames
Optional lighting
No assembly required
Bottle Capacity:74
KC11px06: $1526.00
Optional Lighting: $149.00
Shipping: $225.00
KC107
Wall mount
Black lacquered wood construction
Clear coated solid mahogany face frames and a black lacquered face frame
Optional lighting
No assembly required
Bottle Capacity:96
KC11px07: $1394.00
Optional Lighting: $149.00
Shipping: $225.00
KC108
Wall mount
Black lacquered wood construction
Optional lighting
No assembly required
Bottle Capacity:76
KC11px08: $1324.00
Optional Lighting: $149.00
Shipping: $225.00
KC109
Wall mount
Black lacquered wood construction
Black lacquered face frames and a brushed aluminum (stainless look) face frame
Optional lighting
No assembly required
Bottle Capacity:70
KC11px09: $1574.00
Optional Lighting: $149.00
Shipping: $225.00
KC110
Wall mount
Black lacquered wood construction
Clear coated solid mahogany face frames and a brushed aluminum (stainless look) face frame
Optional lighting
No assembly required
Bottle Capacity:70
KC11px10: $1862.00
Optional Lighting: $149.00
Shipping: $225.00
KC111
Wall mount
Black lacquered wood construction
Clear coated solid mahogany face frames
Brushed aluminum (stainless look) transitions
Optional lighting
No assembly required
Bottle Capacity:82
KC11px11: $1638.00
Optional Lighting: $149.00
Shipping: $225.00
KC112
Wall mount
Black lacquered wood construction
Black lacquered face frames and a clear coated solid mahogany face frame
Optional lighting
No assembly required
Bottle Capacity:108
KC11px12: $1408.00
Optional Lighting: $149.00
Shipping: $225.00
KC113
Wall mount
Black lacquered wood construction
Black lacquered face frames and a clear coated solid mahogany face frame
Brushed aluminum (stainless look) standoffs
Optional lighting
No assembly required
Bottle Capacity:92
KC11px13: $1579.00
Optional Lighting: $149.00
Shipping: $225.00
KC114
Wall mount
Black lacquered wood construction
Brushed aluminum (stainless look) face frames
Brushed aluminum standoffs
Clear coated solid mahogany counter top and face frames
Optional lighting
No assembly required
Bottle Capacity:116
KC11px14: $2111.00
Optional Lighting: $149.00
Shipping: $225.00
KC115
Wall mount
Black lacquered wood construction
Clear coated solid mahogany counter top
Optional lighting
No assembly required
Bottle Capacity:108
KC115: $1544.00
Optional Lighting: $149.00
Shipping: $225.00
KC116
Floor mounted
Brushed aluminum (stainless look) base
Black lacquered wood construction
Black lacquered face frames
Optional lighting
No assembly required
Bottle Capacity:86
KC116: $1776.00
Optional Lighting: $149.00
Shipping: $300.00
KC117
Floor mounted
Black lacquered wood construction
Brushed aluminum (stainless look) base
Clear coated solid mahogany face frames
Optional lighting
No assembly required
Bottle Capacity:91
KC117: $1781.00
Optional Lighting: $149.00
Shipping: $300.00
KC118
Floor mounted
Brushed aluminum (stainless look) base
Black lacquered wood construction
Brushed aluminum (stainless look) transitions
Optional lighting
No assembly required
Bottle Capacity:118
KC11px18: $2026.00
Optional Lighting: $149.00
Shipping: $300.00
KC119
Floor mounted
Brushed aluminum (stainless look) base
Brushed aluminum standoffs
Black lacquered wood construction
Black lacquered face frames
Optional lighting
No assembly required
Bottle Capacity:85
KC11px19: $1940.00
Optional Lighting: $149.00
Shipping: $300.00
KC120
Floor mounted
Brushed aluminum (stainless look) base
Brushed aluminum face frames and standoffs
Black lacquered wood construction
Optional lighting
No assembly required
Bottle Capacity:116
KC11px20: $2412.00
Optional Lighting: $149.00
Shipping: $300.00