PEG System by Wine Cellar Specialists
The Modern Storage Solution for your Custom Wine Cellar

Wine cellar racks come in different designs and configurations that can influence the look and feel of any space.  They are crafted from the best materials, such as wood and metal, to guarantee enduring quality.
These wine racks are built to allow wine bottles to be stored at an angle to prevent the corks from drying out.  Racking styles range from stackable to modular to wall mounted wine display furniture.
Custom wine cellar racks can transform an ordinary storage room into a decorative space for displaying and organizing wine bottles.  Racking systems are designed to accommodate various requirements such as floor space, bottle size, and decorating scheme.  The PEG system by Wine Cellar Specialists is a type of wine display device that can address all sorts of constraints and limitations.
Understanding the PEG System
The PEG wine racking system is a modern approach to wine cellar management and organization.  The layout of a wine cellar space can be altered because the pegs can be rearranged to accommodate storage needs and display requirements of wine collectors.
This racking system is a nod to the minimalist philosophy of "less is more."  It aims to encapsulate a visually appealing space through uniform peg structures.
Benefits of the PEG System
The PEG system wine storage solution offers versatility in design and can provide a clean and polished look for any wine storage room.  The most common material used in crafting this device is stainless steel because of the rigidity and inflexibility of said component.  Stainless steel pegs can withstand the damp climate conditions of wine cellars and are not prone to deterioration.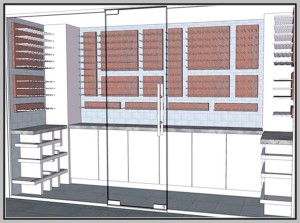 This storage solution makes use of the vertical space in a custom wine cellar for maximum storage capacity.  It is designed to expand as the need for storage space increases.  The PEG system has precise spacing to hold wine bottles of various sizes and keep them securely in place.  The pegs have smooth surfaces that protect wine labels against tearing or ripping.
The PEG wine storage system follows the basic peg and board concept wherein stainless steel rods are attached to a backsplash.  The pegs can be arranged neatly in a row to hold the wines with their necks facing out front or staggered to allow for label forward displays.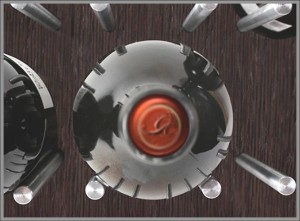 The PEG system by Wine Cellar Specialists offers backlash options that can adjust to any interior setting.  A wood backsplash is ideal for wine aficionados who want to bring an organic flair to their wine cellar environment.  A stainless steel paneling can lend a contemporary feel to any storage room.  For collectors who want to convey an ultra-modern look in their space, installing an LED acrylic backing should do the trick.
For wooden backsplashes, various exotic wood species are available such as maple, walnut, wenge, and padouk.  Several stain and finish options are also offered to enhance and match any interior décor.
The PEG system offers versatile storage solutions that can adapt to odd structural angles in a storage space.  This wine rack can be installed in narrow corners, under stairwells, in tight spaces, and can even work its way around mounted wine cooling units.