Wine Cellar Specialists has partnered with StoneCoat to offer blown limestone on the walls of its wine cellar projects.
This product is a particular type of limestone that comes from France. The stone is in a crushed form and is blown onto the walls or ceiling surfaces and then carved to the style the customer prefers.
This material is perfect for wine cellars as it breathes and does not hold the moisture generated in a cellar.
StoneCoat is Stone that can be Blown onto Almost any Surface!
When the StoneCoat Product is blown onto a surface it is able to be carved, shaped and colored in a variety of ways. Each finish is custom created to look like flagstone, limestone, brick or slate. It is all possible.
StoneCoat is Real Limestone all the way from France
Real stone in liquid form that cures and hardens to look like the real thing….
Because it is the real thing!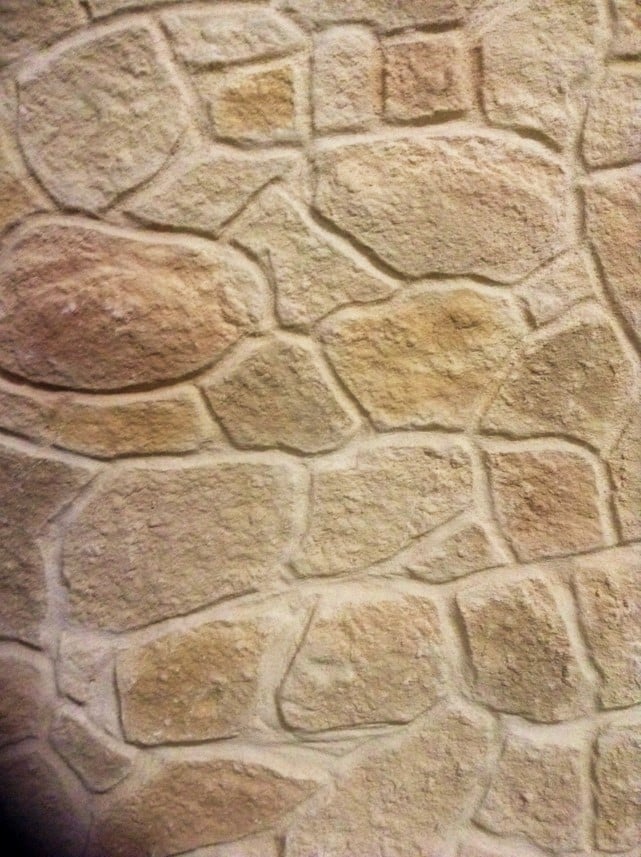 The process has been a popular means of resurfacing and revitalizing walls in Europe for decades, but now we are introducing this innovative system to the America's.
For centuries, man has used Limestone as a building material of choice. From the building of the pyramids to today, it has stood the test of time.
Originally developed in Europe to restore old historic buildings, StoneCoat is a proprietary blend of Limestone and other natural stone materials and minerals specifically designed to be applied over most any surface.
It is a perfect solution for existing buildings and homes and is ideal for new construction, hotels, restaurants, state highway and municipal projects, and many more residential and commercial applications.
StoneCoat's product and its process is gaining more and more awareness here in the United States in the building and remodeling industry because of its unlimited application and creativity opportunities as well as cost savings.
StoneCoat's proprietary mix can be used in almost any remodeling or new construction opportunity.
Amazing Natural Stone that can be "Blown" onto almost any Surface
Natural Limestone Product
Breathable – reduces moisture and provides insulation
Elasticity – minimized shrinkage and cracking, allows expansion and contraction.
Eco-friendly – Co2 absorption, no emissions
Vapor permeable – moisture and vapors will not be trapped behind the limestone
Permanent alkalinity of limestone protects wall from moss, mildew etc.
Natural Limestone is the perfect addition for the walls of Wine Cellars. Limestone is the same material that is found in the caves of the underground cellars in France.
Projects should be at least a 200 square foot minimum.
Is StoneCoat For You?
Would you like this amazing new finish applied to your custom wine cellar?
Call Wine Cellar Specialists today +1 (866) 646 7089.
Out of business hours?  Complete our simple contact request form "I'm interested in StoneCoat please call me asap" and we will contact you at the first opportunity.
The StoneCoat Process is Only Available in Certain Areas of the Nation
Only trained Dealers and Distributors are able to apply this process.
If you are currently in an area that is not covered by a StoneCoat dealer, the area may still be available.
Calling Contractors
If your area is not in the list below and you are a contractor who might be interested in becoming a StoneCoat Dealer or Distributor for this product, contact Wine Cellar Specialists today +1 (866) 646 7089.
As a StoneCoat approved applicator you will be trained and certified in the proper application and techniques required to successfully install the blown stone product.
Suitable for both Residential and Commercial Projects
This product is great not only for wine cellars but also for many other interior and exterior applications.
Currently StoneCoat is available in:
Missouri
North Dakota
Oklahoma
South Carolina
Texas

Abilene
Corsicana
San Antonio
San Angelo
Tyler/Kilgore
Temple
Waco
Virginia
Falls Church