Even a Custom Wine Cellar can be Eco-friendly – Virginia Project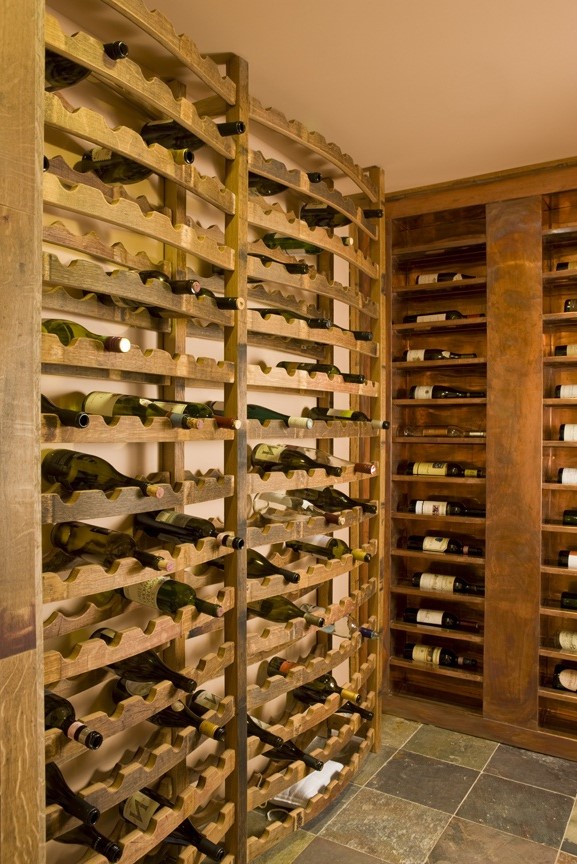 The CharityWorks GreenHouse initiative in McLean, Virginia is a very unusual custom wine cellar design project.
Showcasing sustainability CO2 free homes, a custom-built, carbon-neutral house located in McLean, Virginia with a wine storage room.
The reclaimed wine barrel racking not only making use of reclaimed wine barrels presents a unique and attractive curvy look.
The reclaimed wine barrel product being so versatile that the final design included a cabinet made from reclaimed wine barrels and tanks to store cases and stemware.
Notice particularly how the wine barrel racking presents a unique and attractive convex curved style showing the distinctive markings left behind by the barrel hoops.
The barrel racking on the left features all individual bottle racking floor to ceiling. The room also included additional features of the Vintique system such as a cabinet with wine barrel doors as well as a countertop to store and showcase cases storage and stemware. The rear wall used copper for horizontal bottle displays to keep the bottles cooled naturally.
No Active Wine Cellar Refrigeration, just Green and Passive
This wine room unlike most residential wine cellars was designed to hold a stable temperature without the need of an active wine cellar refrigeration system.  Hitting and holding the correct and optimal temperature for storing and aging wines. Also paying special attention to the use of the basement and its underground walls, the interior insulation became a key element to maintaining the ideal temperature down in a cellar.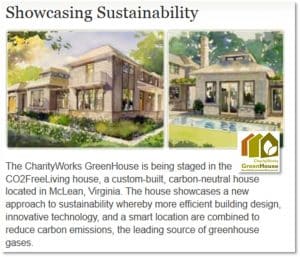 The overall CharityWorks GreenHouse project is intended to demonstrate that luxurious eco-friendly furnishings are possible and cost effective.  The intent being to show how efficient and thoughtful building design, innovative technologies and a smart locations can be combined to reduce or eliminate carbon emissions.