BILD Series Le Cache Wine Cabinets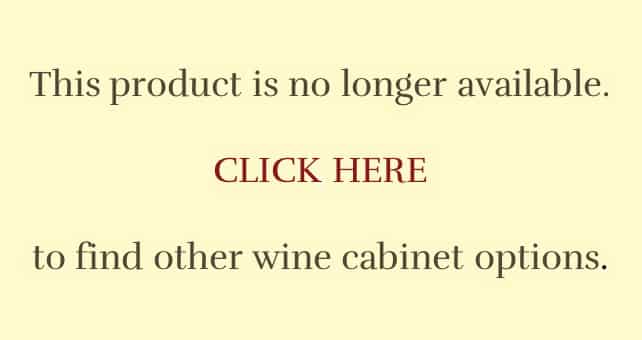 A frugal wine storage option that offers a blend of function and value. These cabinets are shipped flat and assembled by you on site. All hardware is included. For areas where the ambient temperatures will not exceed 95 degrees.
Choice of Melamine exterior finishes
Duel pane tinted glass
Stainless bar pull and security locks
Choice of top or rear vent exhaust
Low-heat fluorescent interior light included
Optional led light upgrade – $100.00
Optional bottle probe – $99.00
Panels are framed and insulated with high density foam
Metal wine racks are sized to accommodate oversized bottles
Choice of CellarPro 1800 QTL, QT, or XT cooling unit
Electronic Thermostat and Digital Display
Adjustable Humidity control
Energy-Saver and Quick-Chill Modes
Audible and Visual Alarms
One year warranty on entire cabinet
Five year warranty on the cooling system
Assembly service available for cabinets: $150.00. Shipped assembled for same ship rate.
BILD 1400 – Single Solid Door: $1595.00 Single Window Door: $1695.00
$250 shipping in the continental U.S.A. via common carrier with curbside service

Choice of Dark or Black Melamine finish
170 Bottles (156 racked = 14 bulk, double deep)
24 ½"w x 28 ½" d x 71" h
115v AC/60 Hz
Running / Startup Amps (compressor)
– CellarPro 1800QTL: 3 Amps / 14.2 Amps
– CellarPro 1800QT: 3 Amps / 20.1 Amps
– CellarPro 1800XT: 3 Amps / 20.1 Amps
BILD 1800 – Double Window Doors: $1995.00
$250 shipping in the continental U.S.A. via common carrier with curbside service
Choice of Medium or Dark Melamine Finish
192 Bottles (150 racked = 42 bulk, double deep)
49"w x 20" d x 71" h
115v AC/60 Hz
Running / Startup Amps (compressor)
– CellarPro 1800QTL: 3 Amps / 14.2 Amps
– CellarPro 1800QT: 3 Amps / 20.1 Amps
– CellarPro 1800XT: 3 Amps / 20.1 Amps
BILD 1800 Owner's Manual and Assembly Instructions