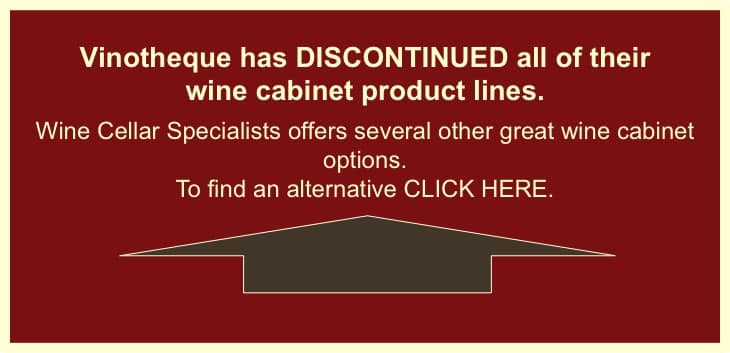 Villa and Reservoir Series
The Villa and Reservoir Series come in 3 sizes.
The Villa and Reservoir Cabinets are designed to offer the best dollar per bottle storage value on the market in hand crafted, Made in the U.S.A wine storage cabinets. With over thirty years of experience in the business and a reputation for high quality craftsmanship, Vinotheque is offering these new designs
which incorporate style, elegance, and affordability that will match well in most home and restaurant environments.
Features:
The WhisperKOOL 2500 cooling unit offers the latest technology from WhisperKOOL. Specifically designed for optimum performance in wine cabinets, this unit offers the new Platinum series control system with advanced system protection technology. This technology features a series of strategically placed monitoring probes which assure efficient performance. The control panel is simple to operate and offers options such has adjustable humidity control, energy saving modes, quick chill mode, an anti-frost function, and a number of easy to understand trouble shooting alarms should a simple issue like a clogged condenser filter occur. The unit draws air into the cooling unit from the rear and has top venting exhaust, allowing the cabinet to be placed near the wall. Digital control system

Advanced system protection technology
Adjustable humidity levels
Energy Saver / quick chill functions
Anti-frost feature
Top venting exhaust

Our cabinets are manufactured and assembled in Stockton California. We utilize closed pore insulation for the highest R Value rated material in our insulated panels. This keeps the cold air in and warm air out. We employ LVL wood to create a strong, long lasting and non-warping door panel. Alder hardwood and veneers adorn these cabinets with a resonating lush look and feel customers expect from fine furniture.

High Capacity metal racking

Door knobs and locks included.

Display Rows – One included. Option for two or three available.
Vinotheque offers a five year warranty on the structural integrity of the wine cabinet, and a two year warranty on the cooling unit, with a five year warranty on the compressor only.

Optional LED lighting
Model
Capacity (Bordeaux)*
Dimensions (WxHxD)
Weight (lbs)
220
224
480
330
336
530
440
448
665
Credenza
216
465
*Note: Capacity is calculated using standard 750 mL size bottles, using larger size bottles may limit the capacity. The racking has been precisely spaced to allow larger diameter bottles on the upper shelves, refer to the diagram below.


The Roma, Sienna and Venetian cabinets are offered in 3 standard stain shades – light, medium, and dark.
 Call to check for stock. Some available to ship others to Ship in 4 to 6 weeks