The wrong wine rack material can ruin the overall appeal of your Texas wine cellar. During the planning phase, it is highly recommended that you seek the advice of a professional designer and installer about the most suitable material for your storage racks.  It may cost significant expense in the future if you decide to change your racking system after its installation. At Wine Cellar Specialists, wooden wine racks are in demand among their clients.
Why Wooden Wine Racks are In-Demand in Building Wine Cellars
Custom wine cellars for homes or businesses are often designed with wooden wine racks. Redwood and mahogany are most commonly used for making wine racks though oak, pine and other woods can also be used in some circumstances.
Wood gives an elegant look and richness to the wine cellar. It can also go well with any décor in your home. Its natural beauty can match both traditional and contemporary living spaces.
At Wine Cellar Specialists, we do not recommend inexpensive materials, such as Poplar, Fir, Western Red Cedar or any aromatic Cedars.
The smell from these woods could go through the corks and taint the flavour of your wine. Some cedars, called non-aromatic, still have some smell to them and should be avoided.
Pine is also a good material for wine racks because it is attractive, versatile, resistant to decay, durability, and cost-effectiveness. But keep in mind that it should only be used when the racking will not be in a climate-controlled wine cellar, but in a home or store under regular living conditions. It does not hold up well to cold temperatures and high humidity.
Different Wine Rack Types and Configurations for Texas Wine Cellars
In order to create a stunning displays of our client's collection, we use pre-built, custom, or a combination of these wine racks.  
Our pre-built wine racks or wooden wine rack kits are available in standard sizes and heights. These storage units are constructed with 1 ½ inches toe-kick base and horizontal dado spacers. One unit can be stacked on top of the other as your collection grows.
Custom wine racks are built according to the specific requirements of the client. They are constructed according to the room's shape and size. The owner can also incorporate his or her own unique design to achieve a stellar custom wine display.
Custom racking is ideal for irregular-shaped rooms. If you are building a wine cellar in a space under the stairs, custom wine racks are recommended so that your racking can fit the ascending ceiling perfectly.
Individual wine racks suspend bottles within the rack and allow air to circulate around the bottle. Each bottle is in its own separate niche. They also make it easier to see and pick the desired wine from the wine cellar. An individual rack for 750 type bottles should be 3 ¾" in diameter to be able to store most any of the larger and odd shaped bottles in today's market.
Other individual bottle sizes can also be included in your Texas wine cellar to store magnums, very large champagne bottles, split size bottles, or any size bottle you might have. Display rows can be built into the individual racks. These are rows of individual bottles that are lying back at an angle to show the label. A display row should keep your bottle at no more than a 15-degree angle so that the wine still touches the cork to keep it moist.
Bin wine racks allow wines to be kept horizontally together in compartments, and help to store wine in a space saving way. This is a good way to store many bottles of the same type of wine together. There are many types of bins that can be used such as X cubes, diamond bins, rectangular bins and more.
Need Help? Contact a Professional Today.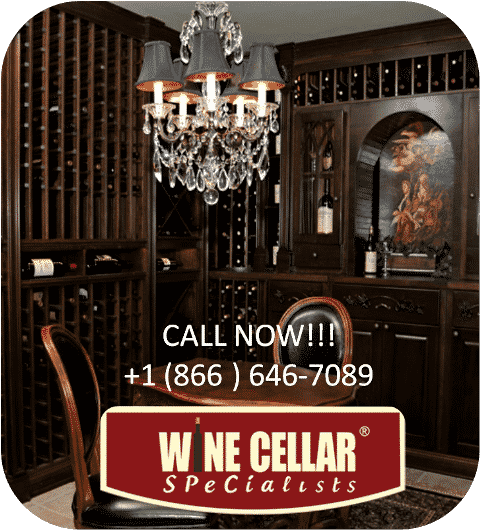 Wine Cellar Specialists can help you through the complete process of wine cellar construction. We help you design exquisite wine cellars with the right storage space and effective cooling systems to suit your personal needs. We can help you to select a floor type that compliments the room as well as a wine cellar door to complete your package.
With Wine Cellar Specialists, you get your personal wine cellar consultant who can help you to create a cellar that becomes one of the most aesthetic features of your home décor. http://www.winecellarspec.com/