Having your Texas wine cellar designed and built by an expert will prevent waste of time and money. There are important factors that need to be considered in wine cellar construction, thus hiring a wine cellar specialist is necessary. This will ensure that your wines are stored in a safe place, allowing them to age for years to come.
A Texas Wine Cellar Built by an Expert Will Keep Your Wines Safe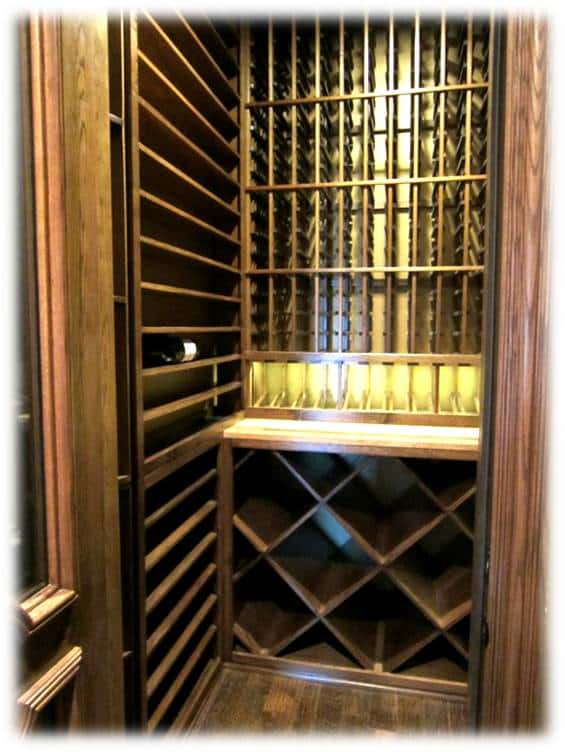 A custom wine cellar is not that far out of your reach. You don't have to do it by yourself.
There are specialists and experts who are more than happy to work with you to bring your wine cellar design to life. And if you don't want to go the route of turning the project entirely over to someone, then work with a wine consultant, who can give you pointers on your cellar.
Wine reaches proper maturation when it is stored in an environment with stable temperature and humidity. The ideal wine storage conditions in Texas wine cellars cannot be achieved without the help of a builder who has extensive experience in wine cellar design and installation.
Your chosen wine cellar company should aim not only to create an exceptional design for your wine storage space, but also to ensure that your prized collection is stored in a climate-controlled environment.
They should be able to help you determine the best location for your wine cellar, the best type of climate control that will work for you, a design that is functional and incorporates everything you want in your room. A consultant will work with you and if you have your own contractor, consult with them as well to make sure the room is constructed correctly.
A wine cellar in your home can be a smaller version of a commercial wine cellar, if that's the type of cellar you want. Or, a wine cellar can blend in with the overall design of your home, and look inside however you want it to look. Your consultant or specialist can help you decide which will work best in your home.
Building Texas Wine Cellars
Working with someone means you have a go-to expert about things like construction, design, materials, ventilation, cooling unit choice, temperature and humidity controls, and the door of your cellar.
All these essential elements in building wine cellars must be given utmost importance because they contribute a lot to the overall functionality and appeal of your wine room.
See other blog posts about the importance of choosing the right door for your wine cellar. If you work with the right person, then your wine cellar will be made the better for it.
Also, if you want total control of the finished look, then a custom wine cellar is the best way to do it. By not using pre-made racks, your wine cellar can be whatever you intend it to be. That picture you have in your head doesn't have to be modified. Bring it to life.
Let a wine cellar specialist help you do it. But keep in mind, that picture in your head is going to be bordered by the space of the room in which you want to build your wine cellar.
Texas Wine Cellars on a Budget
Budget-conscious wine connoisseurs aren't out of luck when it comes to wine cellars. You can use off-the-shelf materials, or, if you want, mix off-the-shelf items with a few custom design elements. Working with a wine cellar specialist means you can present your budget and watch as he or she figures out the best way to meet your needs while staying on time and on budget.
View a Texas wine cellar on a budget built by Wine Cellar Specialists.
Wine Cellar Management System
Finally, once the cellar is built and you are moving your wine collection into it, make sure you write down where you put each bottle.
Not only will you need this list for insurance reasons, but you can also refer to this list when you are seeking a specific bottle of wine to pair with dinner. For larger cellars, a computerized inventory control system is recommended.
Wine Cellar Specialists offers the inventory eSommelier system, which comes with a touch screen computer, bar code printer, bar code scanner, labels, and a manual. It is easy to install and is reliable when it comes to convenience and accuracy. Entering and retrieving data into the system is hassle-free, making wine collecting more enjoyable compared to using a spreadsheet.
Learn more about the eSommelier wine cellar inventory system.
Consulting a Specialist Will Benefit You
You know your wine, and you know your future needs; a consultant or a wine cellar specialist knows the way to best protect your current and future collection; and the cellar itself, it's not a dream, it's a reality that hasn't yet happened. You can have a functional and beautiful wine cellar customized to fit your needs, and one that may increase the re-sale value of your home.
Let a Master Builder Create Your Dream Wine Cellar
Wine Cellar Specialists is a trusted Texas wine cellar designer and installer. Their creativity and extensive experience help them build functional and beautiful wine rooms. Contact them today at +1 (972) 454-0480!