Will It Work For You?
A new product has just been released and it is causing quite a stir.  This is a truly great fully ducted wine cellar cooling system by CellarPro, it is extremely versatile and can be configured to be used in many different ways.  For example, the cooling units can be stacked vertically when floor space is limited; or they can be stacked horizontally when ceiling height is limited; or the evaporator and the condensing unit can be split apart, and the condensing unit even can be placed outdoors, when space or access are limited
This new Wine Cellar Air Handler comes in both the 6500 and the 8500 sizes.  Therefore, these units are meant for larger cellars, up to 1750 cubic feet and up to 2500 cubic feet, respectively, with proper insulation and vapor barrier installed in the wine cellar.  The self-contained (ie Horizontal and Vertical) units are pre-charged and factory set so that they do NOT have to be installed by an HVAC contractor.
There are several different ways these wine cooling systems can be installed: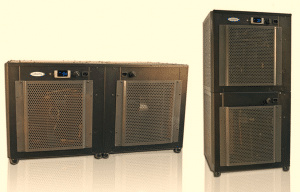 These wine cellar cooling units can be placed horizontally or vertically.
They can be used as one unit or separated as a split system.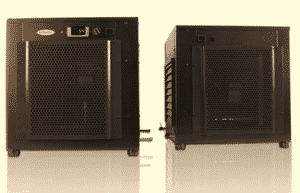 An optional remote digital display is available for use inside or outside the cellar when the units are ducted to and from the cellar.
The evaporator can be ducted into and from the cellar with the condenser attached.
The evaporator can be split and connected to the evaporator via 2 copper lines.
The evaporator could be placed inside the room and connected through the wall to the condenser via 2 copper lines.
Each unit is 18.6w x 18.6 d x 19.3 h… so each section is quite large.
The condenser can be connected to the evaporator directly.
The condenser can be "split" and connected to it via 2 copper lines and be separated up to 100 line ft. away.
The units can be ducted to the wine cellar from the evaporator and to the outdoors or another large space from the condenser up to 100 equivalent ft. (50 ft. per duct).
The units are also available so that the condenser can be placed indoors or outdoors to temperatures from -20 degrees to 110 degrees when used with the optional low ambient kit.
The way you will install your unit must be determined before ordering to receive the correct unit configuration.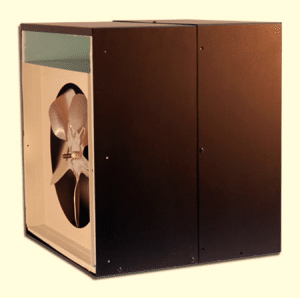 Optional Humidifiers and Heaters are available that can be installed at the factory upon placing your order.  These must be factory installed and cannot be added later.
The integrated Humidifier is perfect for increasing the humidity level in commercial or residential wine cellars. They are controlled by digital controllers that are mounted inside the wine room and are wired to the humidifier that is mounted to the rear of the Air Handler.  Humidity levels can be set from 5% to 70% in 5% increments.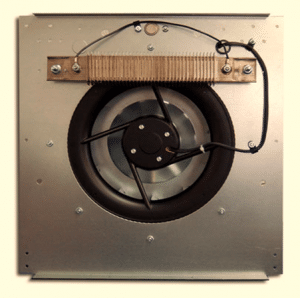 The 900W integrated Heater is for cellars that are unheated and exposed to conditions below 55 degrees.  When the heater system is added, it is integrated with and controlled by the digital control panel and automatically adds heat or refrigeration based on the temperature inside the cellar.  A safety thermostat provides protection from overheating.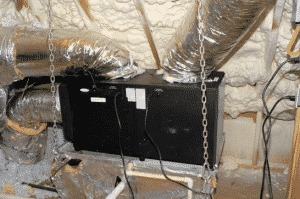 Here is a photo of recent install of an AH6500Sch CellarPro system installed by one of our partner contractors in Memphis, TN.  Located in the attic above the wine cellar the air was ducted to and from the wine cellar.   The hot air was ducted outdoors and the fresh air was received from the fully insulated attic.   The contractor who installed this unit purchased an extra duct collar for the unit. He is currently getting his supply air from the attic. If he finds that the attic gets too hot over the summer, he will change out the grill to the duct collar, adding a duct to the outside for the supply air.
Go here Custom Wine Cellars Memphis to see an example of a CellarPro Wine Cellar Cooling Unit installed is a recent residential wine cellar project.
To find out if this type of system is right for your wine cellar …. Or to see what cooling system is the best type and size for your wine cellar, call Wine Cellar Specialists to have a heat load calculation performed and get a unit recommendation.
Texas: 972-454-0480  Illinois: 773-234-0112 or Toll Free: 866-646-7089
The Residential Wine Closet Cabinets on our website are becoming a major product line for us this year. The level of interest in these types of pre-built wine storage and display closet cabinets is clearly on the rise.
Many home owners are finding that these types of pre-built wine cabinets are the perfect solution for those with only a small amount of available space but who still would like to have the look of a built in wine cellar in their home or condominium.
Home builders are more and more adding them as an option to be added for new home sales. Realtors are often suggesting them as an add-on for home buyers who love wine want a place to store their wine collection. Home owners are finding it an inexpensive alternative to adding full custom wine cellars to their home.
In this video of a wine closet cabinet installed in Dallas Texas we show just how easy they are to install.
Residential Wine Closet Cabinets — what are they & how easy are they to install?
These Wine Closet Cabinets can easily be fit into the limited space of a small closet. They do not require a full build out and re-construction of the room. They simply require an opening of 34″ wide (or more) with a minimum of at least 30″ deep and 80″ high. This space will also require a dedicated 110 outlet at the back or side, which can easily be added if it is not already in place.
The wine closet cellar cabinets arrive fully built. All you need to do is attach the top trim and side flanges, plug in the cord, slide it into the closet area, and add molding of your choice to match your decor. (Moldings not included) There you have it! A closet wine cellar that looks like it was custom built for your home.
The cabinets usually include wine cabinet cooling units. The Whisperkool 2500 front vented wine cooling units are commonly used. These keep you wine collection in the ideal environment for preservation and aging.
These wine closet cabinets typically include a display row with pre-installed led lighting to make the closet a really interesting highlighted feature in your home. Additional display rows can be added if looks, rather than the amount of storage, is your priority. They include a full glass display door to enable you to view and show off your wine collection.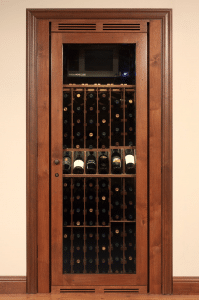 Installing a closet cabinet will generally cost you about 50-85% less than doing a full custom wine closet build out. The wine closets are available in a choice of light, medium, or dark wood finishes. You can add additional display rows and you can have the cabinet made wider to fit larger closets.
This Wine Closet Cabinet shown here was installed in Chicago Illinois and was created using a space just 34″ wide, 30″ deep, 80″ high. It can store up to 166 bottles in the racking plus there is a little extra room for bulk storage either side of the cooling unit which can be used for larger format wine bottles.
The estimated cost for these wine cabinets as shown above including shipping, a local contractor to install it, a dedicated electrical outlet in the back of your closet, removal of your closet door, making the opening the correct size, if necessary… and the addition of molding around the finished cabinet…… usually comes out at less than $5000 all in!
The Cabinet only is $3895.00 plus shipping to your location.
Call us today for exact pricing for your delivered Closet Wine Cabinet!