Commercial Wine Cellars and Storage by Wine Cellar Specialists–Perfect for Hospitality and Retail
When building a wine cellar in a store or restaurant in a commercial space, it's imperative that you work with a builder and designer that understands exactly what they are doing. Take a look at why the best contractors in the country in the hospitality industry come to the Dallas dealer, Wine Cellar Specialists for their expertise when building wine storage or displays in commercial locations.
Reach Specific Sales Goals with Functional and Impressive Wine Storage Displays
Effective marketing strategies can help drive consistent wine sales of retail stores, restaurants, hotels, and bars. If you are an owner of any of these commercial establishments, you have to find a way in which customers will recognize your products. One of these proven strategies is by hiring a builder who understands the direct impact of stunning wine displays on your business.
Impressive Wine Cellar Designs Perfect for Commercial Applications
At Wine Cellar Specialists, we make sure that the design for your wine storage facility will create a good and lasting impression on your customers. We want you to showcase your wine stock in an exceptional way to entice potential clienteles.
You may choose modular wine racks, but we recommend a customized design to achieve compelling beauty and maximum storage capacity.
Add Visual Impact to Your Space with Glass Enclosures
Imagine having a commercial wine cellar as the focal point in the dining area of your establishment. If it is well-designed, it will surely enhance the experience of your customers.
Glass-enclosed wine rooms allow the customers to have a clear view of the wines on sale. They will be able to see the wine labels from outside the cellar.
Striking Display with Modern Wine Racks
Wine Cellar Specialists completed custom wine rooms for businesses to help owners gain a profit. They used metal, wood, or a combination of these materials in manufacturing wine racks for commercial applications.
Metal Commercial Wine Racks for a Minimalist Design
Metal is widely used in building high-end commercial wine cellars. Whether you have a traditional or modern theme in your restaurant, hotel, or store, metal wine racks will blend well with it.
They are sleek, stylish, and easy to install. You can install them on the wall, in a corner, or at the center of a room.
Vintage View Wine Racks
The most popular provider of metal wine rack systems is Vintage View. They offer wine storage solutions that are perfect for contemporary commercial spaces. For small wine rooms, it is ideal to showcase your wines in wall-mounted wine racks. If space is not limited, you may opt for stand-alone storage racks, which are available in various heights.
One of the advantages of the Vintage View wine rack system is its label forward orientation, which displays the bottles with the labels facing out. It allows customers to find a specific type of wine with ease.
The Evolution Series wine racks display the bottles in engineered steel rods. Another line of Vintage View is the Vino Styx racking system. Its versatility allows for limitless designs. The steel bottle holders are sleek and very durable.
Installation of this racking system is very easy. You will need a drill, pencil, level, and tape measure. The Vino Styx wine racks are available in satin black and brushed nickel finishes. For custom options, we offer a wide range of finishes.
Other lines of wine racks by Vintage View are the Vino Rail and Vino Pins Series.
Wooden Wine Racks
Master builders also love to use wood in building commercial wine cellars. Its appeal exudes warmth and beauty that will impress customers who love traditional decors.
At Wine Cellar Specialists, we offer kit wine racks, which are readily built in various styles, heights, and sizes. We have single or double deep wine storage racks to suit our client's needs.
One advantage of our kit wine racks is that it allows for easy expansion. Some of them are stackable to make it convenient for the owner to increase the storage capacity of the cellar without having to modify the whole racking.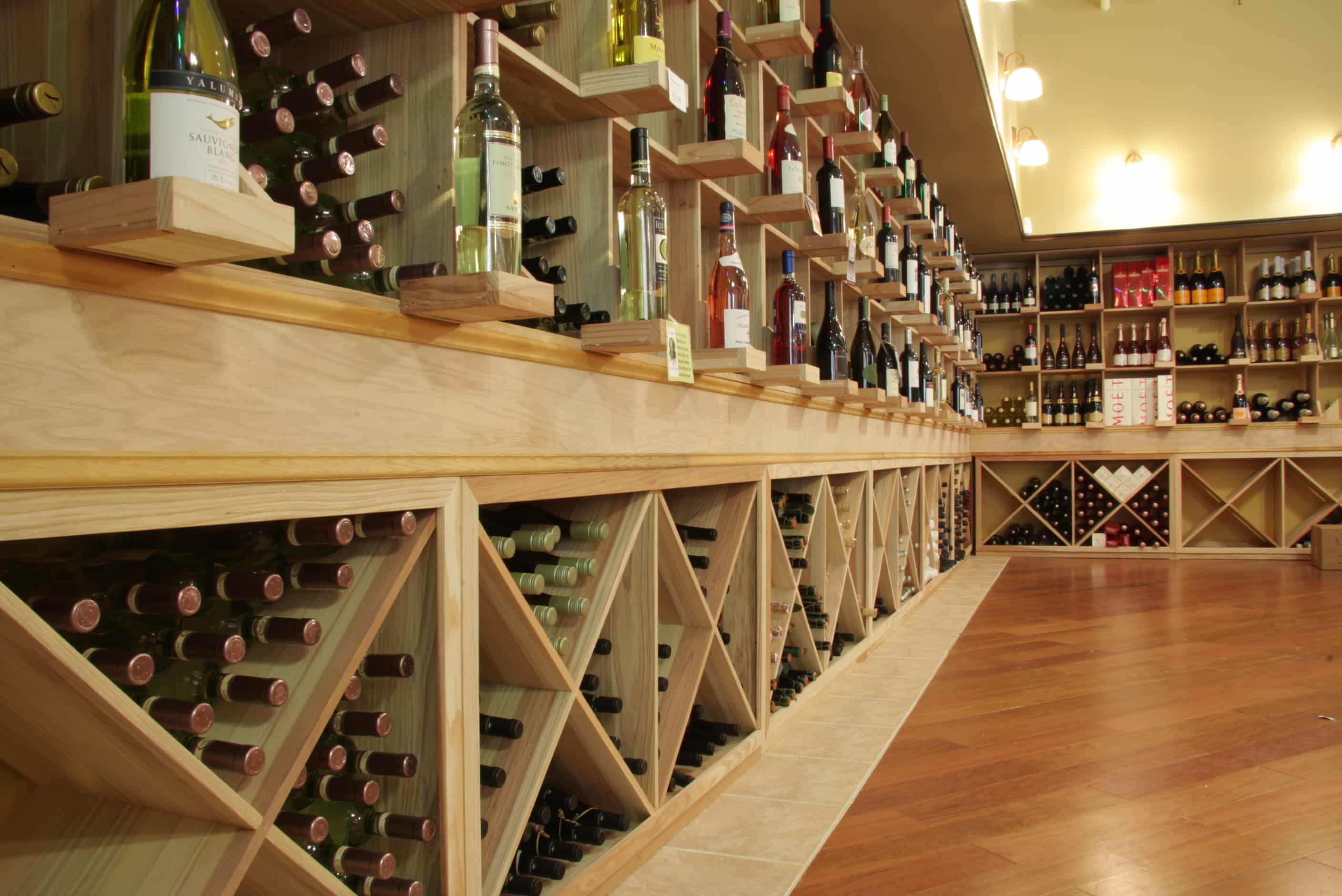 We recommend custom wine cellars for those who want to highlight their wine stock exceptionally. With customization options, you can incorporate your own unique design to make your wine display more eye-catching. We will construct the wine racks to fit the size and shape of your area perfectly.
Remarkable Hospitality Wine Cellar Installation Projects by Wine Cellar Specialists
Below are wine cellar construction projects completed by Wine Cellar Specialists for commercial establishments. The racking designs are not only eye-catching, but also offer maximum storage capacity.
Jasper's Restaurant Contemporary Commercial Walk-In Wine Cellar Richardson, Texas
On one of our recent projects, the owner of Jasper's Restaurant requested us to design and build a high-density and striking wine cellar display beside the bar area. We used floor-to-ceiling and wall-mounted metal wine racks from Vintage View. We built the racking for double and triple-deep storage.
Learn more about this modern commercial wine cellar.
Wine Cabinet Fairmont Hotel Chicago, Illinois
We designed this exceptional wine cabinet for storing and displaying a wide range of wines. We also incorporated a storage area for cheese and individual lockers for guests. We manufactured the wine cabinet in stained and lacquered white oak, and the racking inside with unfinished mahogany.
For ease of access to wines located in the high areas of the cabinet, we added a rolling ladder with handles. We constructed it from finished oak to match the wine cabinet.
Learn more about this stylish commercial custom wine cellar in Chicago.
Custom Commercial Wine Cellar Renovation Project: The Girl and the Goat Chicago, Illinois
The Girl and the Goat is a famous bar and restaurant in Chicago. The area behind the bar originally stored the bottles vertically in square shelves. The owner wanted us to transform it into a more functional and appealing wine storage display.
We installed Mahogany custom wine racks and enclosed a Climadiff Climagan Diva 315 Multi-temperature wine cabinet.
See this commercial wine cellar project in Chicago.
Wine Store with Traditional Wine Racks Texas
A store owner of the Wine Down Wine Market in Flower Mound, Texas, sought the help of Wine Cellar Specialists in building a high-quality wine display. We came up with a racking design that could store 3,398 bottles.
We combined various bottle orientations including quarter-round display, solid X-bin, retail wine racks, and horizontal wine racks. We constructed them all from Knotty Alder, a wood species known for its attractive knots.
Learn more about this commercial wine cellar project for a wine store in Texas.
Stellar Wine Cellar Design for Bistro de la Rein Restaurant New Orleans
Bistro de la rein is a high-end bar and restaurant that offers various wine varieties and brewed beers. The completed commercial wine cellar consists of kit and custom wooden wine racks constructed from Premium Redwood. We used rustic stain and lacquered the racking for a richer look.
The custom wine cabinets and lockers added functionality to the wine storage area. The wine barrel tabletop at the bar counter is an eco-friendly and stylish feature of the restaurant.
See the whole project story of this commercial wine store display in New Orleans..
Drive Sales with a Stellar Wine Display
Need help in building your restaurant's reputation and increasing your sales revenue? Wine Cellar Specialists will design stylish and functional commercial wine racks that will attract your customer's attention. Contact us today at +1 (866 ) 646-7089.