A contemporary custom wine cellar in the White Rock Lake Area of Dallas, Texas was recently completed by Wine Cellar Specialists. The project was done during a remodel of the client's house. Important details and requirements were discussed with the remodeler to ensure functionality of the wine room.
The Distinctive Modern Wine Cellar Design
Using excellent craftsmanship and expertise, we built this beautiful wine storage room with iron and glass in a room adjacent to the dining area. We used Vintage View wall-mounted wine racks which allow easy visibility of the wine labels.
You will see that there are some dividers with 3 columns of racks between each, all made of iron. Behind the front lips of the custom iron dividers, the dimmable LED lighting for showcasing the wine rack display was installed, resulting in a clean look. Dimmable LED recessed lighting was also installed in the wine cellar's ceiling to create the ambiance that the owner wanted to achieve.
The door and windows were constructed with an insulated iron frame which was customized to fit the front opening perfectly. To prevent condensation and to help maintain the cool air in the cellar, the glass used was dual paned.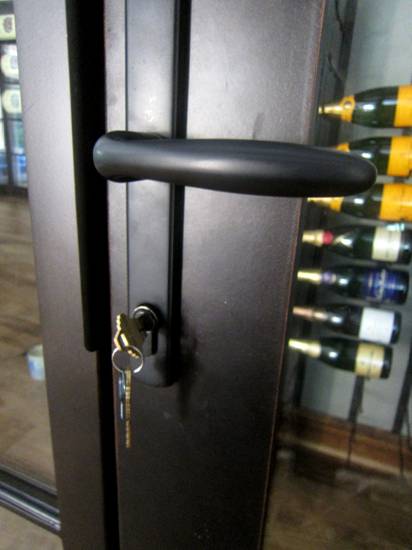 The door handle and lock complemented all the other handles in our client's home. For us, it is important that every residential wine cellar we build matches the overall existing décor of the home.
The Wine Cellar Climate Control System
Graceful aging of wine cannot be achieved without an efficient wine cellar cooling system. To ensure that optimum conditions are kept in this beautiful Texas custom wine cellar, an HS4600 ducted split refrigeration system from US Cellar Systems was used.
Wine cellar cooling units offered by US Cellar Systems are all highly efficient and cost-effective. Click here to learn about their products and services.
The system's supply and return vent which will cool the cellar are in the ceiling. The evaporator and compressor were placed underneath the floor.
Get a feel for this beautiful contemporary iron and glass custom wine cellar in Dallas, Texas by watching the video below.