Discontinued Page
Click Here to go to Current Content
Contemporary Wine Cellar Designs in Wood – Kessick Wall Mounted Wine Racks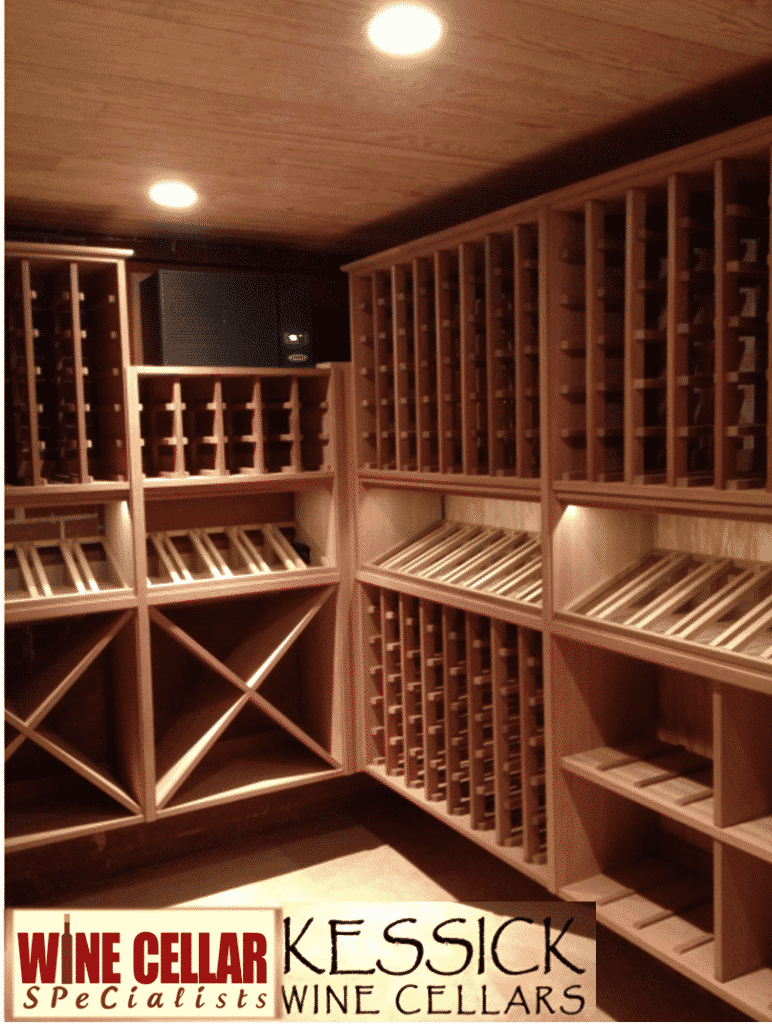 Check out this new Wine Cellar Rack solution.  The Kessick Select Series is built for discerning wine lovers who want to create a very modern, contemporary, wood based wine storage room in their home.
These kit based wine racks come in Sapele Mahogany and have a very clean and stream lined look. The Sapele Mahogany is ideal for full refrigerated custom wine cellars and also works well for alcoves and small places in modern homes that are not climate controlled.
They are competitively priced, come with wall install kits and if you are a little handy, are possible to install yourself.  The products arrive fully assembled, in a box construction, they are designed to mount or hang on the wall. They make great wine displays as well as high density storage racking systems.
They are designed for medium to small spaces often found in contemporary apartments.  They are also robust and varied enough to create stunning walk-in wine cellars
Wine Cellar Specialists love this new Select Series from Kessick and believe it does a great job of serving emerging market demand for contemporary, highly aesthetic, yet high quality wine racking and it does it at value pricing levels.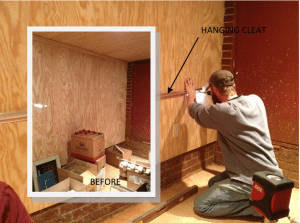 This kit wine racking system makes it simple to manage when you have out-of-level floors & ceilings which are often found in remodeling challenges associated with non-level baseboards,
Kessick wine cellars select series offer a high quality wine storage solution with easy and straight forward installation at a value price point.  On top of this the comprehensive wine storage rack design options make it a great alternative to traditional kit racks.
The revolutionary wall hanging design is a new concept for traditional custom wine cellar design. The racking systems comes with a very strong cleat hanging installation method which is surprisingly easy to install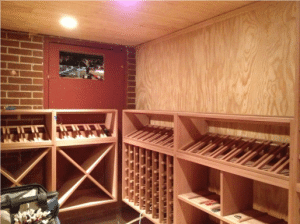 This wall hanging cleat system is proprietary to Kessick and specially engineered with aluminum brackets that enable a quick, stable wall mounting.  The units are adjustable allowing for uneven and the inevitable out-of-plumb walls.
The Wall-Installed Select Series racks are mounted off the floor and do not end tight against the ceiling. This design enables additional storage on top of and below the wine racking. Due to this design additional costs for finish moldings are avoided as well as creating a contemporary modern look.
Key Features of the Kessick Wall Mounted Select Series Wine Cellars Racking Range
Contemporary Yet Wood Based Design Styling
High Quality Product Competitively Priced
Box Construction, 12 ½"Deep with Zero Moldings
Innovative and Simple Wall Mounted Cleat Installation
Ships Fully Assembled (Ready-to-assemble option available)
Sapele Mahogany Wood
Custom Stains and Finishes – Unfinished Wood as Standard
LED lightning
Large Range of Wine Rack Storage and Display Units
Single Column
Diamond Bin
Display Row
Rectangular Bin
Horizontal (label forward) wine racking and displays
Wood Case and Bulk Storage,
Stemware Racking
Arch and Stemware Niches
Cigar Humidors
Tasting Display Niches
True Radius Curved Corner Design
Quarter Round Display
A broad Range of Sizes
Widths 5, 10, 14, 18, 24, 28, 32 and 36"
Heights 12 and 24"
All these individual units are designed to connect together to make larger, more designed, displays.
Get a free wine cellar racking design from Wine Cellar Specialists.  Call +1 (866) 646-7089 or complete our design request form.  Free 3D Residential Wine Cellar Design
See other products from Kessick.