Do I need a Climate Control System for my Wine Cellar?
When making a decision to go with a climate control system or having a passive wine cellar, there are several things to consider.
Am I a collector…?  Do I buy wines that I will want to save for long periods of time before drinking or do I go through my wines quickly and rotate my bottles?
If I find a wine that I like… do I buy in bulk to make sure it will be available to me in the future?
Am I willing to prepare the walls, floor, and ceiling of my wine cellar area with the proper insulation and vapor barrier that is required to build a climate controlled room? This must be done before any cooling unit can be installed.

The original wine cellars were formed in underground caves which maintained a very constant cool temperature and humidity year round.
This is an excellent way to preserve your wine collection… if you happen to have a cave attached to your home. Most of us do not.
Therefore, controlling the climate in your wine cellar with a mechanical system will allow you to recreate a cave-like atmosphere and keep your wine collection good for years.
Basements can Sometimes Work for a Passive Cellar…
At least they can in some parts of the country. However, before you build your wine cellar, monitor the temperature and humidity of the area throughout the year… especially in the hottest months. By doing this you will be able to see what kind of fluctuation in temperature and humidity you find over time.
You may be surprised at just how great the fluctuation actually is. Then with this data, make your decision.
The Ideal Temperature to Store all of your Wines is Approximately 55 Degrees
We are not talking about drinking temperature… but long term storage. The humidity in your wine cellar should be between 50 and 70 percent. If it goes below 50 percent your corks could dry out and air could enter the bottles destroying your wine.
If the humidity goes above 70 percent, mold or mildew could occur and your labels may begin to peel off of your bottles. Constant temperature and humidity will keep your wines maturing properly for years. It is the fluctuation of both the temperature and humidity that can damage your wines.
How do I Choose the Correct Climate Control System?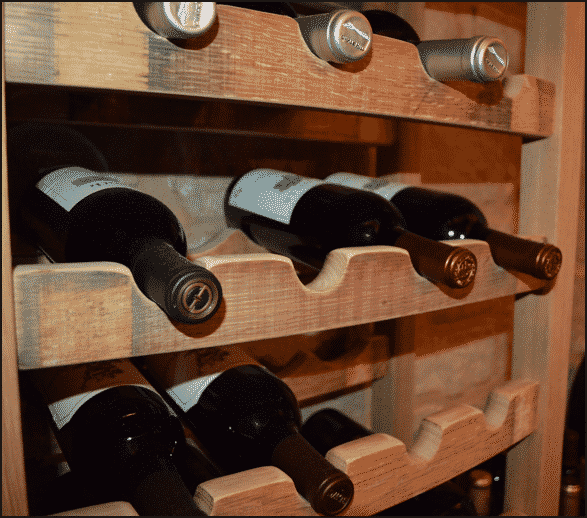 The first step to determine what will work for you. Where is your wine cellar located in your home?
Can a self contained unit work for you or will you need a split system?
You may not have all of the answers. Here is where you should consult a Wine Cellar Specialist.
They will work with you to determine what unit will work best for you. They will also do a heat load calculation to make sure the proper size unit is recommended.
Types of Wine Cellar Cooling Units
Self-Contained or "Through the Wall" Units
These units are the most economical and easiest to install.
They are designed to mount between the studs of an existing wall, and they do not require a licensed HVAC/R installation technician. One end of the system blows cool air in to the cellar, and the other end absorbs heat from the cellar and exhausts the heat into an area adjacent to the cellar.
The adjoining room where the exhaust is sent must be at least 2 times the size of the cellar. Unless… the exhaust is ducted into another area. Some systems provide this option. Self-contained units will make more noise than a split or ducted system.

Ducted Self-Contained Units
A ducted unit has more installation options than a self-contained unit.
The unit may be installed up to 25 ducted feet from the cellar, with the cool air flowing to the cellar and the heat exhaust ducted to the outside of the home.
Ducting is also a more aesthetic choice for wine collectors who do not want to see a cooling unit in the cellar. Noise from the unit will be reduced or eliminated, depending on the installation.
Split Systems

The Split System is often the most efficient way to cool a cellar.
Cooling unit condensers are typically noisy and require significant space for ventilation. In most cases the cellar location does not include an area for these functions. By splitting the cooling system, the condenser can be placed in a space better suited for heat and noise dissipation while the quiet evaporator is inside, or near, the cellar. A licensed HVAC/R technician is required for the installation.
Ductless Split Systems – The evaporator is inside the cellar while the condenser is in another room or outdoors. They are connected via 2 copper lines.
Wine Guardian® – Innovative Cooling Solutions for Wine Cellars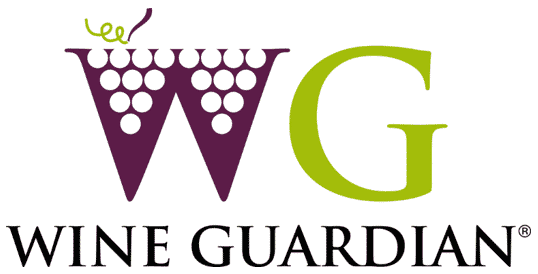 A father and son entrepreneur team started the Wine Guardian company. Since then they have continued to innovate ultimately becoming world-renowned leaders in wine cellar cooling solutions.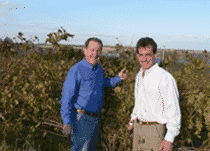 For almost any size of wine cellar, residential or commercial Wine Guardian systems can be  consistently relied upon to provide superior performance in both temperature and humidity environmental control.
These high quality products safeguard your wine collection by continuously maintaining  the ideal storing and aging conditions in your cellar.
Learn more about Wine Guardian
US Cellar Systems – Commercial Grade Refrigeration Equipment

Commercial Grade split systems in both ducted and ductless varieties.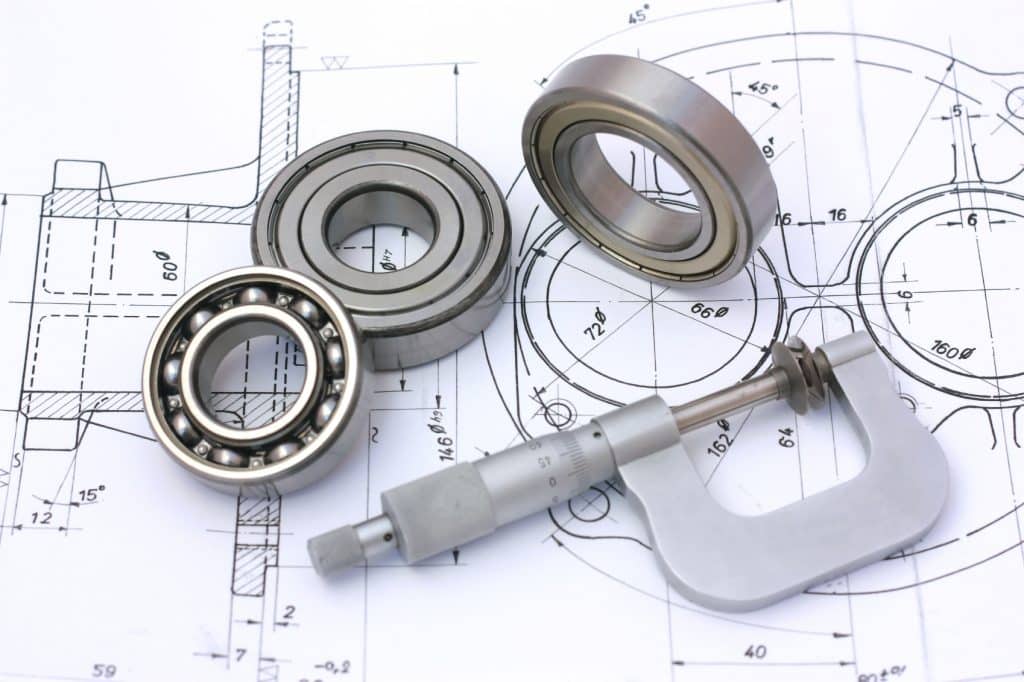 These refrigeration units are powerful enough to use with a grill cover and box over them to match your racks.
This brand of cooling system can be obtained in highly configurable arrangements and power ratings. Idea for tricky installations and priced competitively for residential applications.
CellarPro – Wine Cellar Cooling Systems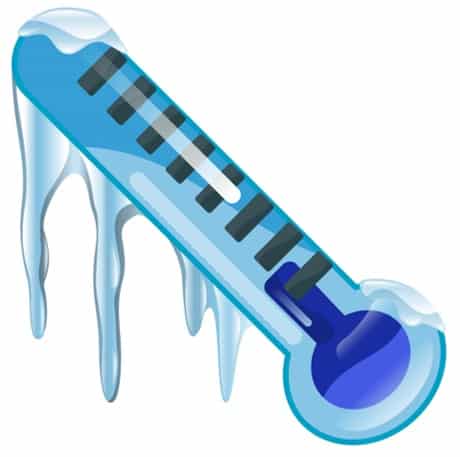 CellarPro units are high quality and can be especially ideal for environments where the weather can be very cold.
They also offer a particularly good range of fully ducted self-contained systems. The units come in several styles of units including:
Self- Contained through the wall
Ducted self-contained
Split systems that can be ductless or ducted.
Ducted or ductless Air Handler systems for larger rooms
CellarPro offers many modifications and accessories for many of their units including filters, remote controllers, integrated humidifiers as well as heaters that can be needed in some circumstances.
WhisperKOOL – Versatile Cooling Units for Wine Cellars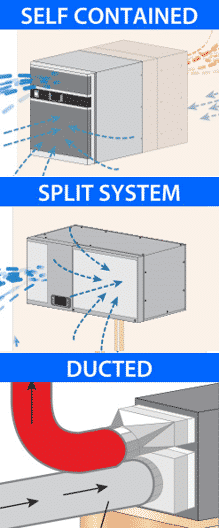 WhisperKOOL cooling systems have many units that are quite different from most others on the market as well also carrying the more standard styles.
Through the wall systems, ductless split systems as well as ducted split systems are included. WhisperKOOL also has an InCellar system that works like a through the wall but the entire unit is inside the cellar, ducting to and from another location.
Another WhisperKOOL innovation is the new ceiling mounted unit. WhisperKOOL has a good product development team that keeps coming out with something new.