Wood's Custom Wine Cellar Memphis Tennessee
Client Feedback & TESTIMONIAL Wine Cellar Builders Memphis:
Nancy was fantastic from start to finish and had the patience of the saint. We went through multiple revisions and several different budgets before we settled on a final design. She was informative and made recommendations based on what was best for us. You are in good hands if you go with her!!PW. – Tennessee
 Custom Wine Cellars Memphis Tennessee
The woods wine cellar Memphis Tennessee is one of the most unique custom wine cellars that Wine Cellar Specialists has built. The design combines custom and kit wood racking with metal racking. This one of a kind cellar is efficiently able to hold a maximum of 13,081 bottles.
The front area or elevation B has a window above which has a small table top above it. There are also solid x-bins and a horizontal display row on the end finishing it off. Each of the wine racks are 12 ¼ inches in order to be of the same depth as the kit racks that are used in the parts of the wine cellar.
Elevation C or the left area is a solid diamond bin with case storage. There is a table top and metal racking above it. There are black metal racks positioned for 750s 3 deep on the side walls.
The right area or elevation D is all wooden racking from floor to ceiling. To add elegance to the racking, a 3 7/8 inch high two step crown and a 4 inch base was included in the design. This is all custom racking with 4 display rows, a high reveal display row and 3 low reveal display rows. Each of these display rows has a light valance above it so that LED lighting can be added.
All racks are done in an unfinished premium redwood which blends very well with the stone flooring that the client decided to add to his cellar.
Rather than having an actual wine cellar cooling split system, a CellarPro 4200 Vsi was used and this  sits on the garage next door. The cool air is ducted into the wine storage room through a vent at the front and warm air goes out the room through a grill at the back of the room.
Finally, a Barolo glass door in Knotty Alder completes the beauty of this custom wine cellar.
Here are some pictures of the wine cellar design:
.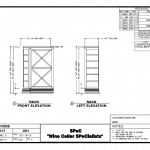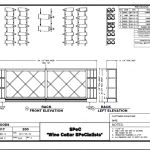 Custom Wine Cellar TN (Plan View)                    Custom Wine Cellars Memphis (Elevation A)
Custom Wine Cellars Memphis TN (Elevation B)             Wine Cellar Memphis (Elevation C)
Wine Storage Memphis TN (Elevation D)                          Wine Cellar TN (Top View)
Wine Cellars Memphis TN (Left View)                       Wine Cellar Tennessee (Right View)
Wine Storage Memphis Tennessee (Front View)               Wine Storage Tennessee
.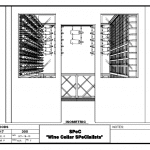 There are many other projects in other locations that you can explore such as the  Custom Wine Cellars Dallas job, find this installation and others by visiting our project gallery on our Wine Cellars page