Custom Wine Cellar Wood Doors also with Glass and Wrought Iron Features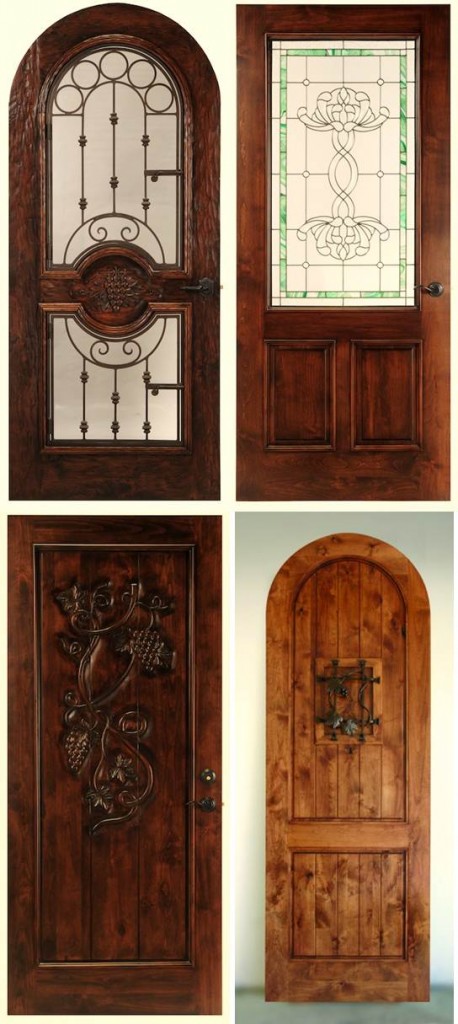 All of our wine cellar doors are individually hand crafted the old world style. Each door is LVL constructed and is created with mortise & tennon corners. This means the doors are specially constructed to main the environment in your wine cellar without warping or degrading.
Learn more about wine cellar construction.
Wine Cellar Doors – Alone or Pre-hung
All purpose built wine cellar doors can be purchased alone or pre-hung.
Our pre-hung doors include a choice of a wooden threshold or an automatic door bottom. They include your choice of 7 casing options for both interior and exterior casings. The doors are stained and lacquered with your choice of 6 different stain colors.
Also check out our selections of:
Hand Forged Wrought Iron Wine Cellar Doors & Gates
Wood Wine Cellar Door – Stain and Lacquer Color Options
Hardware Options for Wood Wine Cellar Doors
Other Hardware Options for Wine Cellar Doors
Because each door is specially made for you, any size or style can be produced. Contact a Wine Cellar Specialist for a quote on a door for your wine cellar.
Pre-fitted
Dual glazed tempered glass 5/8" thick
Automatic Door Bottom
Commercial Grade Ball Bearing hinges (4.5" X 4.5") Choice of Oil Rubbed Bronze, Polished Brass, or Brushed Nickel
Engineered LVL Style
Mortise and Tennon Construction
Exterior Rabbeted Jamb w/ Q-Lon Weatherstripping
Interior and Exterior Case Mouldings Included
Hand Forged Wrought Iron Powder Coated Black or Bronze
Operable Wrought Iron
PreFinish: Oil Based Stains – Choice of 6 Colors
Top Coat Polyurethane
Hand carved wood designs
Custom Wine Cellar Door Options & Styles:
Knotty Alder, Clear Alder, Walnut, Knotty Walnut, African Mahogany, Maple, Douglas Fir, Cherry among other exotic wood species.
Custom larger jamb sizes
7' and 8' doors as well as custom sizes
Custom styles
Glass Etching, our design or yours
Stained Glass designs
Arched tops, full or eyebrow
Most Popular Wine Cellar Door Styles
Wine Cellar doors in Glass
Solid Wine Room Doors
Doors in Wrought Iron
Carved Wood Door Ideas
All these doors are doors are individually hand carved. Styles and designed can be created using standard design formats or created based upon a clients ideas. Call Wine Cellar Specialists +1 (866) 646-7089 for Details.