Ultra Series Label Ladder Contemporary Cellar Wine Racks
Add Aesthetic Appeal to Your Custom Wine Cellar Design…

Metal wine racks are popular because of the contemporary look and uniqueness that they provide to both residential wine cellars and commercial wine displays. They are perfect for those who want to store their wines in a limited space and have the desire to create a contemporary look their wine cellar.
Metal Wine Racks for a Contemporary Look
Metal wine racks contribute a lot to the sleek and sophisticated look of contemporary wine cellars. Easy viewing of wine labels is also one of the advantages of this modern wine racking option. Black or silver metal wine racks are commonly used to give your wine cellar a unique look that will surely impress your guests. You may also choose the color for your metal wine racks, but if they are color-customized it usually takes longer for you to get them.
Wine Cellar Specialists have been using metal components in wine cellar construction. We offer a contemporary metal wine racking solution that is flexible, functional, and aesthetically appealing – the Label Ladder.
Flexible and Modern Label Ladder Ultra Series Wine Racks
Components of Ultra Series Label Ladder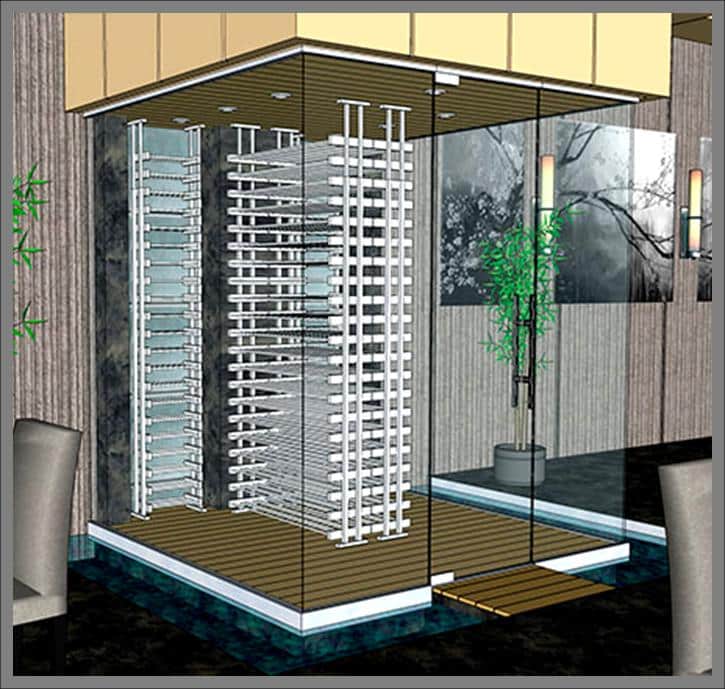 Our Label Ladder's components are built for long-term durability. In fact, they were proven to hold up to the weight of a person hanging from one of its rods. These components include the following:
Horizontal Stainless Steel Rods – these rods which hold the wine bottles can be customized to meet your storage needs. Customization options include single, double, and triple bottle depth. You may also want to request for your Label Ladder to accommodate 1, 2, or 3 bottles laterally.
Maximum View of the Label – Label Ladder is an excellent wine racking option, especially for commercial wine cellars. It maximizes the view of the label in addition to allowing you to showcase your bottles like they are floating in space.
The position of the Label Ladder wine racking solution is not determined by or limited to the available wall space because they are fixed to the floor and ceiling. With the flexibility in design of our Label Ladder, you can float displays in the middle of the room or in front of glass walls.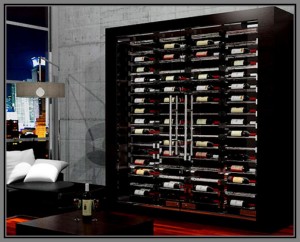 For the support of the Ultra Series Label Ladder, high quality steel beams are fastened to the ceiling and wine cellar floor. In each steel beam, precision cut blocks of wood are laddered up. The stainless steel rods run in between the wood blocks.
The choice for the wood block material is yours. Maple and walnut are the premium wood block options; or you can choose from wenge, padouk, ebony (light), silver oak, or zebrawood for a more exotic option. Choose one which will complement your existing décor.
There are also different bottle width and height options for you to choose from. Click here to view our Label Ladder dimensions.