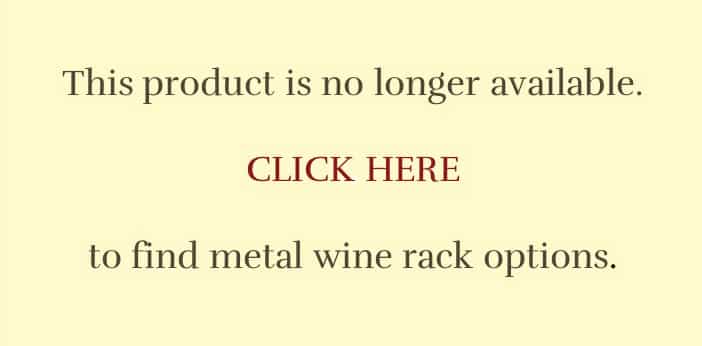 *Wine Rack Pins* –
Degré
12 "The Gravity Series" MODERN Design!!!
Are you looking for a wine storage system that will display your bottles attractively and create an illusion of bottles floating in the air? Wine Cellar Specialists can help you. We offer the Gravity Series Wine Rack Pins by Degré 12, a modern racking design that can transform any room into a stellar wine cellar. Learn more about the features of this wine rack style.
Degré 12 Metal Wine Rack Gravity Series – Contemporary Way to Showcase Your Bottles
A stunning display of wine will benefit the owners of both residential and commercial cellars. At Wine Cellar Specialists, one of our goals is to design and build a wine storage system that will provide our client's collection a safe and exceptional place for aging.
We provide different types of metal wine rack systems for customers who want to add a modern touch to their living space. Metal is sturdy and sophisticated, which makes it a sought-after material for building high-end wine cellars.
Our newest modern wine storage solution is the Degré 12 Gravity Series metal racking. Discover its features and advantages.
Why Opt for Our Gravity Storage System
Why go for ordinary wine rack systems if you have the option to show case your collection exceptionally? Imagine having a luxurious wine cellar in your home, restaurant, hotel, bar, or retail store.
Our Gravity Series metal wine rack system is an innovative storage solution recommended for both residential and commercial applications.
Sleek and Stylish Display with Wine Rack Pins
Our Gravity Series wine racks offer a stylish and minimalist appeal to any wine storage facility. Its high-end design will please the eyes of your guests while adding aesthetic value to your space.
This type of racking system makes use of ultra-thin black metal pins that seem invisible when occupied by standard or magnum bottles. The wine rack pins, which cantilever out from a metal mast, display the bottles as if they are floating in the air. The mast, which is secured to the floor and ceiling, is where the metal pins are attached on both sides.
We recommend glass walls and a door for wine cellars installed with the Gravity Series so your guests can enjoy viewing the elegant wine display from outside of the room.
Better Wine Organization and Convenience in Locating Wine
Another benefit offered by this line of metal wine racks is flexibility and better organization of one's collection. The bottles are stored sideways, with the cork facing out. This type of bottle orientation provides convenience in finding specific types wine because the labels are also facing out.
You simply need to hold the bottle's neck and pull it out from the pins without flipping it to see the wine description. Flipping the bottle can disturb the sediments, which may alter the wine's taste and aroma.
Each pin is well spaced to ensure that each bottle is positioned from each other with the appropriate gaps in between.Depending on the size of your wine room, the metal mast can be from 62 inches to 98 inches in height.
The depth can be 2-4 bottles, and the width depends on the bottles intended to be stored in the pins. You may request for a wider space in between each row of pins.
Maximum Storage Capacity – Ideal for Small Wine Cellars
Since the metal mast is available in various heights, width, and depth, you can create a wine rack system that will accommodate the number of bottles you have in your collection and will fit the size of your cellar perfectly.
The Gravity Series wine racks maximize the storage capacity of your room. Whether you have a small or large space, Wine Cellar Specialists will build a racking system that will make the most out of your available space.
You may opt for floor-to-ceiling or half-height metal masts, depending on your needs and personal preference. A couple of metal masts arranged in a row results in an impressive wine display.
Outstanding Flexibility – it Can be Combined with Other Lines of Degre 12 Metal Wine Racks
One of the reasons metal racks are widely used in wine cellar construction is their ability to blend well with any type of racking. The Gravity Series is so flexible that it can be combined with other lines of Degré 12 wine racks without compromising the aesthetic impact of your wine display.
For example, we can install the Gravity Series in front of your cellar and a few Modular Classic or Sliding Series at the back for wooden cases and large format bottles. The result is a modern storage system with increased storage capacity and added functionality and uniqueness.
You may also combine it with wooden racks, depending on what you want your wine room to look like.
Built-In Lighting System
Illuminating your wine display plays an important role in the overall appeal of your storage space. Our Gravity Series metal racks have built in LEDs that highlight the bottles dramatically. The lights can be in the top of the mast pointing down, or in some of the wine rack pins.
LED lights are ideal for wine cellars because they emit only a minimal amount of heat and have no harmful UV rays. Using regular bulbs can damage your wine due to too much heat exposure. LED lights also consume less energy, so you don't need to worry about high-energy bills. Other advantages of the LED lighting system include a longer lifespan and versatility.
Display Your Finest Wines in a Modern Way
With our Gravity Series racking system, you can display your collection dramatically in elegant wine rack pins with integrated LED lights. Call Wine Cellar Specialists today at +1 (866) 646-7089 to start your wine cellar project.