Modular Wine Racks – Kessick Wine Cellar Design
This stunning range of modular wine racks are as beautiful and they are cost effective. The Kessick Estate Design series, "KED" for short, consists of four different groups of pre-designed wine racks. There are a wide range of widths and design configurations that include "X" bin storage, hanging wine glass displays, rectangular bin storage, arched center displays, mahogany table top, magnum wine bottle storage, display rows and pre-installed lighting options.
>> View Kessick Modular Wine Racks (KED Series)
For a full understanding of the options, configurations and sizes available, watch our video tour below. This is such a versatile and cleverly designed modular wine rack range, that we feel sure you will be able find a design that is exactly what to want. If you would like help choosing the right product simply call +1 (866) 646-7089 or complete a simple wine cellar design request form.
Kessick Modular Wine Racks – Wine Cellar Design
Why manufacture Modular Wine Racks in Sapele Mahogany?
Wine racks that are delivered un-assembled and with the wood unfinished, has historically been how wine racking was delivered and the only options available to you. Kessick has raised the quality standard for wine racks by creating these fully finished and assembled wine cellar racks in Sapele Mahogany.
Kessick use a Sapele Mahogany wood species due to its inherent natural moisture and mildew resistance, these features coupled with it natural beauty makes it ideal for the wine cellar storage.
Native to Africa, Sapele is a hardwood tree and is cultivated from managed and sustainable forests. In the same strength category as Oak the timber is very strong and stable, it is considerably stronger than regular African mahogany.
Our Sapele mahogany has a medium reddish-brown natural coloring, in the acquisition process it is quarter sawn, it has a well-defined ribbon stripe figuring and for which it is characterized.  As with other wood in the Mahogany family, its color will naturally darken somewhat with age and exposure to UV light.
Sapele Mahogany is known for its very rich, deep, natural coloring and therefore does not need a stain.  Its coloring is consistent and does not vary from red to blond as other varieties do. We recommend requesting samples of the wood should you wish to compare different Mahogany varieties!  Compare side by side and note the differences in color, color consistency, the wood grain itself and it's density.
All Kessick modular wine racks are constructed using solid mahogany inventory and grain/color matched ¾" A2 and B1 graded Sapele Mahogany core plywood hardwood with wood edges. These wine racks are manufactured to last a lifetime even in the cool and often moist conditions found in a typical wine cellar. Kessick do not use any man-made or engineered wood products such as MDF due of the inherent limitations and issues these types materials can have with elevated humidity and moisture.
Available in both unfinished or lacquered finishes the Kessick "Estate" modular wine racks are an excellent choice for long term wine storage.
About LED Wine Cellar Lighting used in Modular Wine Racks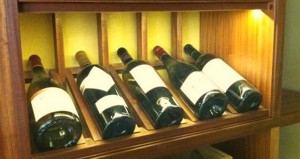 Our LEDs produce a warm amber light with very little heat, no UV rays (which can damage wine), and are rated to last 10+ years even with continuous use. When the lighting option is chosen each component will come factory wired with an integrated lighting rail making hook up extremely quick and easy.