The Residential Wine Closet Cabinets on our website are becoming a major product line for us this year. The level of interest in these types of pre-built wine storage and display closet cabinets is clearly on the rise.
Many home owners are finding that these types of pre-built wine cabinets are the perfect solution for those with only a small amount of available space but who still would like to have the look of a built in wine cellar in their home or condominium.
Home builders are more and more adding them as an option to be added for new home sales. Realtors are often suggesting them as an add-on for home buyers who love wine want a place to store their wine collection. Home owners are finding it an inexpensive alternative to adding full custom wine cellars to their home.
In this video of a wine closet cabinet installed in Dallas Texas we show just how easy they are to install.
Residential Wine Closet Cabinets — what are they & how easy are they to install?
These
Wine Closet Cabinets
can easily be fit into the limited space of a small closet. They do not require a full build out and re-construction of the room. They simply require an opening of 34″ wide (or more) with a minimum of at least 30″ deep and 80″ high. This space will also require a dedicated 110 outlet at the back or side, which can easily be added if it is not already in place.
The wine closet cellar cabinets arrive fully built. All you need to do is attach the top trim and side flanges, plug in the cord, slide it into the closet area, and add molding of your choice to match your decor. (Moldings not included) There you have it! A closet wine cellar that looks like it was custom built for your home.
The cabinets usually include wine cabinet cooling units. The Whisperkool 2500 front vented wine cooling units are commonly used. These keep you wine collection in the ideal environment for preservation and aging.
These wine closet cabinets typically include a display row with pre-installed led lighting to make the closet a really interesting highlighted feature in your home. Additional display rows can be added if looks, rather than the amount of storage, is your priority. They include a full glass display door to enable you to view and show off your wine collection.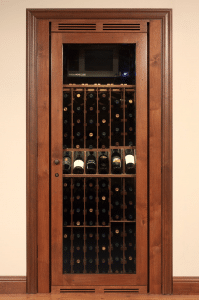 Installing a closet cabinet will generally cost you about 50-85% less than doing a full custom wine closet build out. The wine closets are available in a choice of light, medium, or dark wood finishes. You can add additional display rows and you can have the cabinet made wider to fit larger closets.
This Wine Closet Cabinet shown here was installed in Chicago Illinois and was created using a space just 34″ wide, 30″ deep, 80″ high. It can store up to 166 bottles in the racking plus there is a little extra room for bulk storage either side of the cooling unit which can be used for larger format wine bottles.
The estimated cost for these wine cabinets as shown above including shipping, a local contractor to install it, a dedicated electrical outlet in the back of your closet, removal of your closet door, making the opening the correct size, if necessary… and the addition of molding around the finished cabinet…… usually comes out at less than $5000 all in!
The Cabinet only is $3895.00 plus shipping to your location.
Call us today for exact pricing for your delivered Closet Wine Cabinet!