Ultra Series Metal Wine Racks
A Great Option for Modern Custom Wine Cellars 

Wine Cellar Specialists have developed 3 new metal wine racking options for contemporary wine cellars. We have been incorporating metal components in our custom wine cellar projects.  By choosing the Ultra Series by Wine Cellar Specialists, you can create a unique look  for your wine cellar.
The PEG System by Wine Cellar Specialists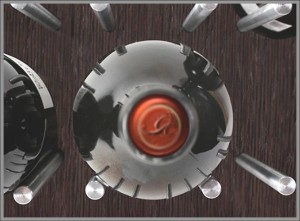 If you want to achieve a clean and modern look in your custom wine cellar, the PEG wine racking system is the ideal option for you! In addition to its aesthetic appeal, the PEG system has also been tested for durability and sustainability.
Compared to traditional wine racks, the unparalleled configuration of the PEG system – which allows increased capacity to accommodate wine bottles- is unparalleled. It creates an illusion of floating wine bottles, giving your wine cellar a more sophisticated look.
Label Link by Wine Cellar Specialists 
As your wine storage increases, you can expand your custom wine cellar easily with Wine Cellar Specialists' Label Link. With traditional wine racking systems, you need to spend  a lot more money when you want to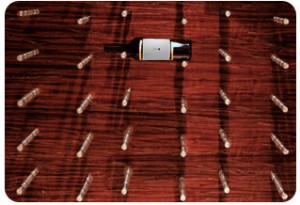 expand. With Label Link, you just need to spend for additional links to increase the bottle capacity of your custom wine cellar racks.
The Label Link configurations are single, double, or triple-bottle depths. There are luxurious wood species for backsplashes, LED acrylic displays, and contemporary stainless steel options. It is best to plan for the future growth of your wine collection. Go for Label Link – a horizontal bottle-displays system that will not only create a modern look in your wine cellar but will make wine collecting a hassle-free hobby.
Label Ladder by Wine Cellar Specialists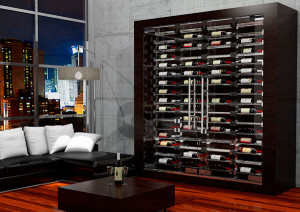 Create an impressive residential or commercial wine cellar with the Label Ladder of Wine Cellar Specialists. Like the PEG system, your guests will see your wine bottles as if they are floating in space. This allows easy viewing of wine labels and shows off trophies. You can opt for double or triple-bottle depth and choose any length of horizontal stainless steel rods that will hold the bottles.
The Label Ladder combines the contemporary look of metal and the warmth of wood. The Label Ladder for custom wine cellars is built with durability and has passed several stress tests. Its flexibility allows you to place it easily in the middles of a room or in front of glass walls.