Wine Cabinets – Refrigerated Wine Storage Cabinets
Wine Cabinets are a great way to have a wine cellar in your home without the mess or expense of building out an actual room or space. Wine cabinets or wine cellar cabinets come in a variety of sizes, prices, and options. At Wine Cellar Specialists our selection of Refrigerated Wine Storage Cabinets are in our opinion the best units on the market today selected for quality, affordability and looks. Each brand has numerous styles and price ranges to choose from.

Too many to choose from? Allow Wine Cellar Specialists to help. Call Toll Free: +1 (866) 646-7089 and speak to a wine cabinet specialist or simply complete a Wine Cabinet Quote request and an expert will call you. Get help with selecting a cabinet that will fit your space, style needs and price range. Still not just right? Wine Cellar Specialists can also create a custom wine cabinet to fit your needs.
Ready to select your own? View the various Wine Storage Display Cabinets below by brand. All prices listed on the web site are exclusive of shipping. For shipping costs, call +1 (866) 646-7089 Wine Cellar Specialists for a no obligation quote for delivery to your home or business.
Climadiff Wine Cabinets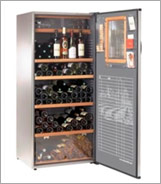 Climadiff, the leading wine cabinet specialist in France uses its incomparable expertise in designing its very high quality wine cabinets within reach of the greatest number of wine lovers. Their cabinets have a modern look and incorporate some very unique features such as lava stones, charcoal filters, vibration absorption systems, integrated wine logs, adjustable temperature zones and more. See the details for each cabinet style. Climadiff in stock cabinets ship in 5-7 days FOB Ontario, Canada
>> MORE CLIMADIFF CABINETS AND DETAILS
Le Cache Wine Cabinets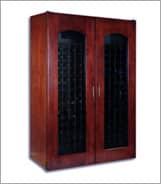 Le Cache has been building furniture quality wine cabinets since 1991. Their upright cabinets have been engineered with top-vent cooling units so that they can be placed right up against the wall. The hot air is ventilated through the top of the wine cabinet, and the return air comes from above the wine cabinet, so there must be sufficient clearance above the cabinets for the hot air to dissipate. Le Cache credenzas are rear vented.
The upright cabinets can be modified with rear-vent configurations or with front vent hoods. Read about the Placement Requirements for Le Cache Wine Cabinets.
Le Cache wine cabinets feature Cellar Pro cooling units. These units include not only adjustable temperature control but also adjustable humidity control features.
Le Cache in stock cabinets ship in 5-7 days FOB California
>> MORE LE CACHE CABINETS AND DETAILS
Vinotheque Wine Cabinets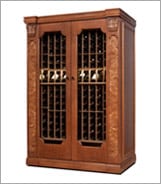 Vinotheque has been manufacturing wine refrigeration and wine storage cabinets for over twenty years and has an extensive range of styles and options to choose from. Be sure to read "Things You Should Know" before placing your Vinotheque order.
Many of the Vinotheque cabinets come with an option of the Whisperkool rear vent cooling unit or the QT cooling system. Both systems come with a bottle probe for measuring the liquid temperature of your wine. The Whisperkool unit draws air into the cooling unit
from the rear and has top venting exhaust, allowing the cabinet to be placed near the wall. The unit is placed inside the cabinet.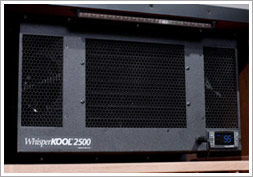 The QT cooling system is the most advanced wine cellar temperature and humidity maintenance unit in the world. It is built into the back wall of the cellar, allowing more bottle space inside. It minimizes noise while maximizing the units ability to cool. The system employs natural convection refrigeration, allowing the cabinet to cool from the rear forward resulting in higher efficiency. Temperature consistency is assured by the temperature equalizer feature.
Front Venting for the QT is an option that is offered. By using the front venting, you can build the storage unit into existing cabinetry or into tight spaces where ventilation is limited. This design increases cabinet height by 3 inches and encloses the backside.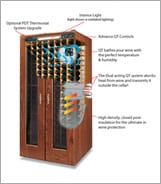 Most of the Vinotheque cabinets have numerous options and are built to order. The Estate Series will take 6-8 weeks to ship. The Villa and Reservoir Series are ready to ship and will go out within 5-7 days of purchase. Fully custom cabinets are also available and will take 8-12 weeks from a custom drawing is approved. FOB California
>> MORE VINOTHEQUE ESTATE SERIES CABINETS AND DETAILS
>> MORE VINOTHEQUE VILLA & RESERVOIR CABINETS & DETAILS