Wine Cabinets – A Convenient Solution for Many Wine Collectors
Although we know that every person that buys and stores a wine collection dreams of a custom wine cellar, it's not always the best option for all individuals. If you rent your house, apartment, or business property, building a custom structure into your property may not be a possibility. Maybe you're starting your collection and aren't ready to invest the amount of money needed for a custom construction project. This is why so many wine lovers choose pre-made wine cabinets.
Wine Cabinets Are Safe for Your Wine With State-of-the-Art Refrigeration Systems
These storage units can be a smart decision. They store your wine correctly, often with some of the same brands of refrigeration units that we install in large custom wine rooms.
Cabinet Wine Cellars Are Beautiful!
They are also quite lovely. Whether you're looking for a cabinet in a traditional or contemporary style to match your home or business, there are many great looking options, in multiple colors and stains that will likely fit your location.
Why Work with a Custom Wine Cellar Designer When Purchasing a Wine Cabinet?
You might think that buying a wine cabinet is something that you can run down to Home Depot to purchase, like it's a refrigerator. But the truth is that wine cabinets are far more complicated. We strongly recommend speaking with one of our design experts when choosing a cabinet.
Don't Risk Buyer's Remorse With a Wine Cabinet
Although these units are far less expensive than building a custom wine room, they are still not a small purchase for many individuals. And you do not want to go through the hassle of purchasing a cabinet, installing it, and finding out that it's not quite right in some way.
Consider Your Wine Stock and Projected Wine Storage Needs
It's very wise to consult with a specialist about your current collection and what you expect it to grow to in the coming months and years. We have years of experience with these issues, planning projects for many, many clients, with both large and small wine cellars.
Don't buy a wine cabinet and find out in a few months that it's not big enough and you just wasted a bunch of money and have to replace it.
How to Install Your Cabinet
Have you thought about the installation process. This isn't like plugging in a lava lamp. If you live in an apartment complex, getting it into the right room may be tricky. Again, this is another reason why working with a wine cellar specialist is wise.
Find the Right Design for Your Space
And above all, you want to find a unit that fits the aesthetic of your home or business. Our experience at building wine cellars all over the country has given us a little experience knowing how to ask the right questions. We'll be able to determine the design of cabinet that best fits into your space, and fits your tastes, delivering a wine cellar solution that will bring a sense of awe to your friends, family, and guests.
Too Many to Choose From?
Very often people start shopping for a cabinet and become totally overwhelmed. Don't get frusted and stop your search.
Allow Wine Cellar Specialists to help. CALL toll free and speak to a design specialist or simply complete a Wine Cabinet Quote request and an expert will call you. Get help with selecting a cabinet that will fit your space, style, needs, and price range.
If you're finding that a pre-made wine cabinet still doesn't fit your needs, Wine Cellar Specialists can also design and build a custom wine cabinet to fit your property and pocket book.
Ready to select your own storage cabinet? View the various display cabinets below by brand. All prices listed on the website do not include shipping.
For shipping costs, call us HERE.
Wine Cellar Specialists can provide a no obligation quote for delivery to your home or business.
Best Wine Cabinets on the Market
Wine cabinets come in a variety of sizes, prices, and options. At Wine Cellar Specialists our selection of refrigerated wine storage cabinets are, in our opinion, the best units on the market today. We've hand selected them for quality, affordability and looks. Each brand has numerous styles and price ranges to choose from.

Climadiff Wine Cabinets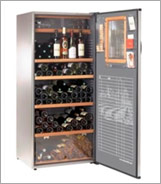 Climadiff, the leading wine cabinet specialist in France uses its incomparable expertise in designing its very high quality wine cabinets within reach of the greatest number of wine lovers. Their cabinets have a modern look and incorporate some very unique features such as lava stones, charcoal filters, vibration absorption systems, integrated wine logs, adjustable temperature zones and more. See the details for each cabinet style. Climadiff in stock cabinets ship in 5-7 days FOB Ontario, Canada
>> MORE CLIMADIFF CABINETS AND DETAILS
Le Cache Wine Cabinets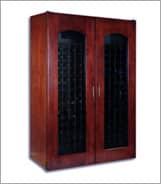 Le Cache has been building furniture quality wine cabinets since 1991. Their upright cabinets have been engineered with top-vent cooling units so that they can be placed right up against the wall. The hot air is ventilated through the top of the wine cabinet, and the return air comes from above the wine cabinet, so there must be sufficient clearance above the cabinets for the hot air to dissipate. Le Cache credenzas are rear vented.
The upright cabinets can be modified with rear-vent configurations or with front vent hoods. Read about the Placement Requirements for Le Cache Wine Cabinets.
Le Cache wine cabinets feature Cellar Pro cooling units. These units include not only adjustable temperature control but also adjustable humidity control features.
Le Cache in stock cabinets ship in 5-7 days FOB California
>> MORE LE CACHE CABINETS AND DETAILS
Vinotheque Wine Cabinets
The Vinotheque wine cabinet lines have been permanently discontinued. We will have a replacement line coming soon.