Having only a small room available doesn't mean that you can't have your own wine cellar at home. With the creativity and expertise of a master wine cellar builder, any size of room can be transformed into an elegant wine storage space. In Colleyville, Texas, Wine Cellar Specialists has built an effective wine room, despite the limited space. 
Small But Magnificent Wine Room in Colleyville, Texas
Small Wine Room Conversion Project by Wine Cellar Specialists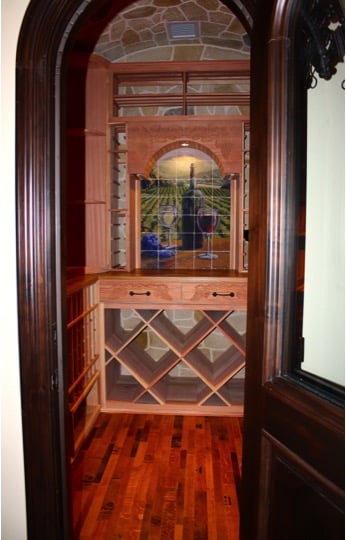 You may not have a large room for a wine cellar, but a professional builder can create an efficient wine room out of a small space. A client in Colleyville Texas selected Wine Cellar Specialists to build a beautiful wine cellar from the studs of their new home.
We installed all of the necessary components in this small wine room to ensure the proper aging of wine. We also included some great features in this wine cellar design, to create a stellar display of our client's collection.
At Wine Cellar Specialists, the members of our design and installation team have extensive experience in converting small spaces into impressive and functional residential wine cellars.
Wine Guardian Cooling Unit Ensures Proper Storage of Wine Room 
Using a regular air conditioner in your wine room will cause temperature fluctuations that can harm your collection. A proper wine cellar must be equipped with an efficient refrigeration system, in order to achieve the optimal conditions needed for the proper maturation of wine.
In this project, we cooled the room with a Wine Guardian ducted self-contained unit. This type of refrigeration system is a good option for wine collectors who don't want the unit to be visible in their wine cellar. This cooling unit from Wine Guardian is also known for its quiet operation.
The unit sits above the cellar in a conditioned attic space, which means that the noise produced in the cellar is minimal. It is ducted in with two smaller ducts on the front door end of the cellar, and one larger duct for return air at the back.
Walls and Ceilings – Stonecoat Offers a Cost Effective and Beautiful Solution 
The barrel ceiling and walls were covered with Stonecoat, which is a material composed of crushed limestone from France. It is a breathable material, making it ideal for wine cellars. The stone is blown onto a surface, and then hand carved and colored in the design requested by the customer. This particular client chose to make the Stonecoat look like the stone on the exterior of his home.
The walls and ceiling of this small wine room in Colleyville, Texas are not only beautiful, but also cost-effective.
Wine Barrel Flooring Makes for a Clever Choice in Colleyville, Texas Room 
One of the factors that contributes to achieving the ideal environment in your wine cellar is the flooring.
Just like the walls and ceiling, the flooring must be insulated properly, to keep the cool air from escaping the room, and the warm air from leaking into the cellar. At Wine Cellar Specialists, we always ensure that our clients' flooring is well insulated, and attractive as well.
Reclaimed wine barrel flooring of the Cooperage variety was used on the floors and tabletops in the room. This style features cooperage markings from various vineyards throughout the wood, and can add a historic touch to any storage space. Cooperage reclaimed wine bottle flooring is made from the tops and bottoms of the wine barrels, which are engineered to create flooring for wine cellars. This is a beautiful choice, and good for the environment, too.
Attractive Custom Wine Racks Made of Quality Material 
Your racking is a component in wine cellar construction that will determine the overall appeal of your home wine room. It should be well-designed, in order to create a magnificent display of your wines. It must also be manufactured from a quality and attractive material, to enhance the beauty of your wine's resting place.
Marble Tile and Wood Wine Racks
In this Texas wine room project, we used wood for the racking. The wine storage racks are made from unfinished premium redwood. This type of wood has a natural reddish color, with streaks and swirls that add character to the wine cellar racks.
The back wall includes a solid arch, with glass racks on each side. We added a tumbled marble tile behind the arch, to create a beautiful focal point. The arch also includes a hand carved grapevine design. This design is carried over to the front of the two drawers that were included above the double deep solid bin rack (below).
The drawers were installed with automatic closure hardware. Our grapevine handle pulls are shown on the drawer fronts. Double display rows include a high reveal row on the bottom, with a low reveal above. We also included bin case storage for 4 cases, 2 per side.
The left wall includes short ¼ round units on each side of the window to the kitchen area. LED tape lighting was used above all of the display rows. An LED puck light was installed above the arch. Four rotating LED light fixtures were recessed into the ceiling. Each of these lighting components were installed with separate dimmer switches.
Stunning Window and Door with Grapevine Design in a Small Wine Room in Colleyville, Texas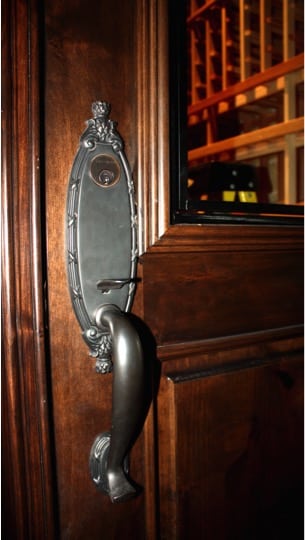 The window and door have a grapevine design similar to that of the aforementioned drawers. The client chose to have the window in only the top half of the door, with a solid bottom. The iron is operable, and opens for ease of cleaning.
Dual pane tempered glass was used, as well as an automatic door bottom. The door was stained in a "Rustic" stain and lacquer. The handle set and lock is our French Colonial design.
View more custom wine cellar door options.
Start Your Wine Cellar Project Today.
Wine Cellar Specialists has transformed a small wine room in Colleyville, Texas, into a grapevine themed wine cellar with stunning features. If you have a small closet, garage, or any room that you want to convert into a functional storage space for your collection, contact us at +1 (866) 646-7089 or request a wine cellar design for FREE!